Vincent van Gogh "Starry Night" Most Popular Oil Painting in 2011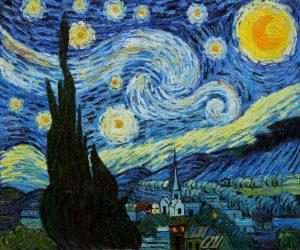 The online art gallery, overstockArt.com, revealed today its annual Top 10 Oil Paintings rankings for 2011. Topping the list is Vincent van Gogh's masterpiece, "Starry Night." Other artists named on the 2011 list include Salvador Dali, Wassily Kandinsky, Gustav Klimt, Claude Monet and Pablo Picasso.
Van Gogh had a spectacular year with his art taking the top three spots in overstockArt.com's annual list of the top best-selling oil paintings of the year. "Starry Night" is back to reign supreme as the most popular oil painting of 2011 after a short relinquishment of the title to another of the artist's masterpieces, "Branches of an Almond Tree in Blossom" in 2010.
The top 10 oil paintings sold online in 2011 according to overstockArt.com's statistics are:
"Van Gogh consistently remains the most popular artist in the world," said David Sasson, CEO of overstockArt.com. "While 'Starry Night' and 'Café Terrace at Night' have been staples on our top 10 lists throughout the years, we credit the continued popularity of 'Branches of an Almond Tree in Blossom' to the unique interpretations of the painting we introduced last year." In 2010, overstockArt.com debuted several renditions of the painting featuring different colored backgrounds. The online art gallery trademarked the red rendition, which according to Sasson, was an instantaneous best-seller and remains one of the gallery's most popular paintings.
Picasso has two oil paintings in the Top 10, a testament to the wonderful year he had in the limelight as his art was featured in museums across the United States and has been stolen and recovered several times throughout 2011 alone. In addition to commissioning thieves to try and steal a Picasso, private collectors have given Picasso art the highest bids in auction in 2011 and his mass appeal has been fueled by international press coverage.
Woody Allen's film, "Midnight in Paris," has given the artists of the roaring Paris scene in the 1920's a surge that is visible in the year's top 10 list: Dali, Picasso, Monet and even Kandinsky are all mentioned in the film and aptly included in this year's Top 10.
The Top 10 list is released annually due to popular demand, "Consumers and companies strive to keep up with the latest interior décor trends to maintain a modern appeal," said Sasson. "Just like they care about Pantone's annual 'it' color, they want to know what décor accessories are hot. Our annual top 10 list makes it easy for consumers to stay on top of the trends and find out which oil paintings are most desirable in the marketplace."
In 2011 overstockArt.com sold more than 60,000 oil paintings. They are one of the web's most notable distributors of wall décor items with the most comprehensive selection of hand painted reproduction oil paintings, frames, and ceramic art tiles to choose from in the online decor industry.