Van Gogh and Gauguin: Friendship or Rivalry?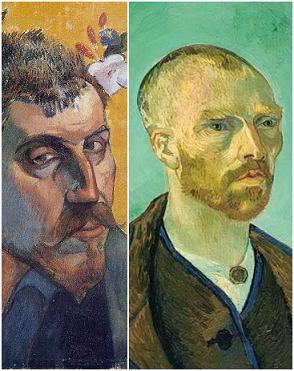 "A friend should be one in whose understanding and virtue we can equally confide, and whose opinion we can value at once for its justness and its sincerity," wrote Robert Hall. Could a friend be also your rival? The kind of person who you admire and at the same time you try to overcome? Gauguin and Van Gogh's friendship meant not only love and support to each other, but also a confrontation in the creation field.
The relationship between Vincent Van Gogh and Paul Gauguin began in Paris, around 1886. The two, along with Bernard, Toulouse Lautrec and Anquentin formed "The Little Avenue group," as Van Gogh named it, in order to emphasize the contrast with the painters from "The Grand Boulevard," a name used to designate the famous Impressionists of the time.
Since Parisian life was characterized by competition and stress, and especially because he didn't sell any painting, Vincent decided to move to Arles, where his friendship with Gauguin grew, evolved and ended. Over time, Van Gogh hoped to host in his home called "Yellow House" several generations of artists, for which he repeatedly calls Gauguin's presence. Although the difference in age between the two artists was of only five years, Vincent looked at Gauguin as his mentor and hoped that in the time they would spend together he would learn from him many art techniques.
Each critical idea Van Gogh received was taken as an advice on how he could improve his technique. Gauguin considered himself as a true mentor for the young artist to the point where he tried to falsify the date of a painting by Van Gogh, in order to look as if Vincent made it after his arrival in Arles. Vincent didn't seem to be upset by this gesture.
In the five months until the arrival of Gauguin in Arles, Van Gogh made over 200 paintings, among which the most famous is the series of fruit trees in bloom and the sunflowers. Meanwhile, the two artists were in touch quite often. In addition to invitations to come to Arles, Van Gogh, asked Gauguin's opinion about the paintings he made. Paul shows his appreciation every time:
I've been keeping a close eye on your work, since we parted company. I offer you my sincere compliments, and from many artists yours is the most remarkable work in the Independent's Exhibition. With things taken from nature, you're the only one there who thinks…I've spoken at length about it to Aurier, Bernard and many others. They all offer you their compliments."
Van Gogh has also words of praise:
Everything which he does has something soft, calming, amazing about it. People do not understand him yet, and he is suffering because he has not sold anything – just like other true poets."
In order to convince Gauguin to come to Arles, Vincent calls to his brother, Theo van Gogh. He asks him to give Paul a monthly allowance. After many persistent letters, Gauguin finally accepts and moves in with Vincent. Van Gogh lets Gauguin take the lead-role in art, placing himself in the role of the student. They worked out a lot of motifs together, compared their results and argued over artistic concepts. The two had a difficult life together. They were constantly confronted with health problems, that worsened periodically, and with financial and social difficulties. They used to paint until exhaustion, in true creative outbursts, and later they would not be able to reach the easel for days.
The differences between the two became striking. Van Gogh was impulsive and tied to the fantasy world, while Gauguin was a rationalist and a good tactician. For a while, Van Gogh embraced Gauguin's theories: he outlined all areas and did not work anymore according to nature. Instead, he painted from his head and adopted the abstract technique. However, Gauguin's ideas were not so close to his. Therefore, he deviated.
Although initially, it seemed a good plan, coexistence of the two was not without conflict, as Gauguin writes in his memoirs: "Between two human beings, he and myself, the one like a volcano and the other boiling too, but inwardly, there was a battle in store, so to speak." Gauguin was a much more calculated person, trying to stick to a strict minimum in terms of money, so unacceptable to van Gogh. The thing that shocked Gauguin was the mess Van Gogh was living in. According to Paul what made Vincent angry was acknowledging that he was very intelligent, "for my forehead was too low, a sign of stupidity." Van Gogh said that the discussions with Gauguin often became so tensed that between the two no longer existed any closeness or friendship. While Vincent needed a gentle and caring friend, the workshop colleague treated him harshly and with irony.
Towards the end of their relationship, exasperated, Van Gogh attempted to drive his friend away, by being loud and offended him with every opportunity. The relationship between the two weakened after Van Gogh's outbreaks. He threw a glass of absinthe on Gauguin while they were in a cafe, then attacked him with a razor while they were in the workshop. Exasperated, Gauguin notified Theo that he had enough and wanted to leave. Later, Van Gogh, in a bout of nerves, cut his ear.
The friendship between the two finally ended, and Gauguin refused to have anything to do with a "crazy person." While working at the same workshop in Arles, the two easily influenced each other. Subsequently, each quickly returned to their old style: Van Gogh painted outdoors in spontaneity, and Gauguin's work became extensively studied.