A New Van Gogh Masterpiece Found
A New Vincent Van Gogh masterpiece has been found! The painting is called "Le Blute-Fin Mill", and dipicts a 19th century Paris mill. The painting was declared an original Van Gogh 25 years after the death of the man who originally bought it – Dirk Hannema. The painting was put on display in the Museum de Fundatie in Amsterdam.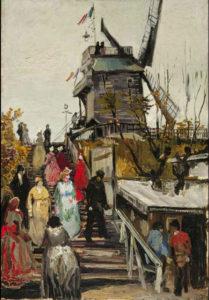 The painting's owner Dirk Hannema, who was born in Batavia, Dutch East Indies in 1895, bought the piece in 1975 in Paris from an antique and art dealer for 5,000 Dutch guilders ($2,700), and then immediately insured it for 16 times more than what he paid. Hannema claimed that he was "absolutely certain" that the work of art was an original, but, because of an earlier claim of having bought a Vermeer in 1937 that was later proven to be a forgery, the buyer's declarations were discredited and went disregarded. Nevertheless Hannema, who was born to a wealthy art-collecting family, and was named art director of the respected Boijmans Museum in Rotterdam in 1921 when he was only 26, never gave up hope that one day his claims would be verified.
Since his youth, the brilliant art curator collected high quality pieces by lesser known artists and had a preference for looking for works of masters that were yet to be attributed to them, though not usually with great success as he was mistaken nearly all of the time. His claims included that he owned seven Vermeers and more than one Van Gogh, as well as a few Rembrant's. Now 25 years after is death he seems to embody the famous quote of Marcel Proust…
"If a little dreaming is dangerous, the cure for it is not to dream less but to dream more, to dream all the time."
The painting, whose genre is considered unusual for the impressionist, depicts large human figures in a landscape climbing both up and down wooden steps in front of an enormous wooden windmill in Monmartre, Paris.
Contrasting Van Gogh's iconic starry sky pieces in rich blues and yellows that he is so well-known for, this painting's sky is not only starless but also cloudless and it is so pale a blue that it seems almost an ivory white, suggesting perhaps that the weather is cold, which could be further established by looking at the barren trees with sparse leaves in tones of ochre, olive green, sienna, and suede grey.
The clothing of the ladies, are a rainbow of brusque, yet defined, brush strokes ranging from a rich cranberry, red, and dusty rose, to pale yellows, sea-foam greens and a striking brownish-grey ensemble adorned with a bright red sash and big bow, and the windmill's wooden propeller, depicted from a view of its side, almost evokes thoughts of Don Quijote de la Mancha because of the shape of its wooden propellers.
The piece, that shares Van Gogh's style through it's bright colors that are lavishly slathered onto the canvas, was painted in 1886 when the artist was living in Paris and bears the stamp of an art store that he was known to buy materials and pigments from, said Louis van Tilborgh, curator of research at the Van Gogh Museum in Amsterdam to the Associated Press during an interview.
Vincent Van Gogh painted almost 900 works during his short lifetime before he committed suicide at the age of 37.