Employee Picks: Amanda Hadley, Customer Service
Amanda is one of the company's customer service representatives. She handles the questions and needs of our customers, helping to guarantee we deliver the best possible customer experience. Outside of work, she enjoys reading and spending time with her dog. Her art taste tends to run towards the more romantic and dramatic pieces. Here is a list of her five favorite paintings and why she selected them.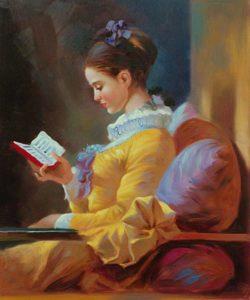 The Reader- Jean-Honore Fragonard
"This captures how I feel when I'm reading a good book."
The Reader , also called A Young Girl Reading by Jean Fragonard was originally painted in the 18th Century. The original was purchased by the National Gallery of Art in Washington, DC in 1961. Jean Fragonard was a French painter and print-maker whose late Rococo design was distinguished by remarkable exuberance and a flourish for the decadent. One of the most prolific artists, Fragonard produced more than 550 paintings, of which only five are dated.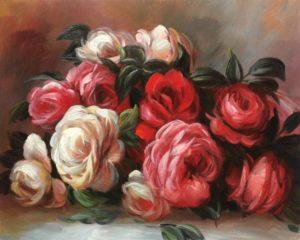 Discarded Roses –Pierre-Auguste Renoir
"I love the romantic feeling of this piece."
In the 1870's Renoir's Impressionist technique reached its peak, with glorious accomplishment. His fully defined technique rendered still-life and floral arrangements masterfully. He spent weeks and sometimes months perfecting his paintings. They are created with soft colors to capture the romantic feel of the flowers.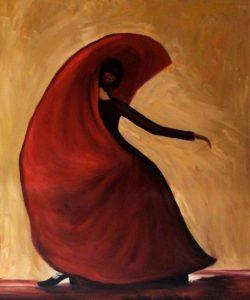 Flamenco- Justyna Kopania
"I love a lot of drama, and this artist expresses that."
This Flamenco painting by Justyna Kopania takes a familiar scene and strips it down to the essentials. With the simplicity of just a few shapes, Kopania is able to convey an incredible amount of emotion and movement. This Polish artist also adds subtle shading to give texture and volume to the painting, especially in the skirt of the dancer. Though the scene is a realistic one, there's an element of surrealism present that makes it endlessly fascinating to look at.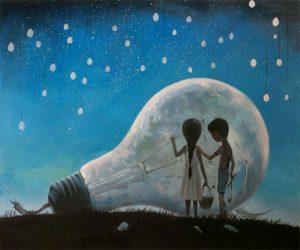 The Night We Broke the Moon- Adrian Borda
"Something about this scene makes me think of childhood wonder."
Contemporary surrealist painter Adrian Borda offers a uniquely stunning vision in this artwork, entitled The Night We Broke the Moon. Featuring two childlike silhouettes against a sparkling night sky, it expresses a relatable and complex mixture of emotions: guilt and regret, tender comfort and companionship, and wondrous enchantment. This piece is one of several by the Romanian artist which depicts the night sky as a sparkling array of light bulbs. With its cool colors, inviting narrative, and eye-catching imagery, this painting is a great fit for a child's room or one who is a child at heart.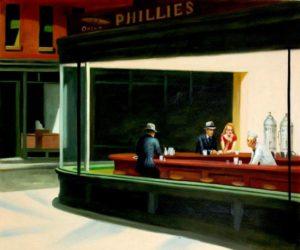 Nighthawks- Edward Hopper
"This is classic and I feel it would go in any room I want to put it in."
Inspired by a corner diner on Greenwich Avenue, Nighthawks by Edward Hopper is a seemingly simple scene with a strong, borderline eerie atmosphere. On the surface, it depicts three customers and a waiter at the bar, with then-new fluorescent lights beaming onto the empty street. But closer inspection reveals none of the night owls are speaking or even making eye contact. The glass window and lack of a visible entryway combine to send a powerful message about being alone even in a large city.
Here at overstockArt, our staff is just as passionate about art as our customers. We love sharing the beauty of our hand painted pieces and encourage you to look at the wide selection in our best sellers gallery as well. If you have any questions, our customer service is happy to help you at anytime time.