Larisa Lavrova: A Heartbeat in Time
Russian born artist Larisa Lavrova found her journey to becoming an artist to be winding and full of unique experiences. Currently, she works and lives in both Moscow and Toronto, although she is spending the pandemic only in Moscow. Her artwork has been viewed in cities across Russia and is available online. Beginning her journey at the age of two, she views each piece as a chance for new discovery. Canvas and paint are the best way for her to express her feelings and capture a bright, unique experience. In addition to experimenting with techniques on her own, Lavrova has studied art at Art and Industrial College of V.M. Vasnetsov of the Stroganov Moscow State Pedagogical University in Abramtsevo.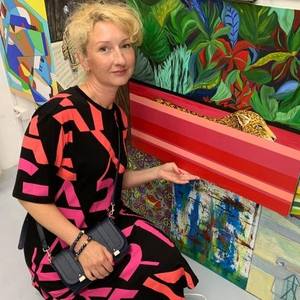 Although she works only in oil and acrylic paint on canvas, Lavrova loves to combine different styles and techniques. Her unique style includes abstract, realism, and impressionism. She is constantly looking for inspiration, in the settings and people around her. She often will gather many ideas, but then choose one to focus on to completion. The primary focus for most of Lavrova's art is nature and people, two things she is passionate about. Each distinctive piece offers a dreamlike expression of the world that delights her audience and enhances the beauty of any space.
Shop the Inspiration
In her gallery, you will find a variety of beautiful artworks, that vary in subject. Though, each piece maintains a fresh and innovative quality that Larisa Lavrova is known for. Evocative pieces like It's Mine and Moonlight use bold color and imagery in a beautiful way. Alina Allen uses only the stark contrast of black and white but still captures the imagination. More casual pieces, like Where Are You Now and No Means No can add a freshness to any space, while more classic pieces like Flowers add elegance. She also shows her diversity in expression with an exceptional collection of portraits like Arabic Woody, Fire Flame, and Mistress of the Sands of Time.
Our artist of the month is an artist who loves to reach new limits and will never grow stale.  Each piece in her collection is creative and vibrant, with a great deal of expression. Browse her gallery and find the distinctive piece that speaks to your own sense of adventure.