Dorina Pantea : Diversity and Originality in Every Face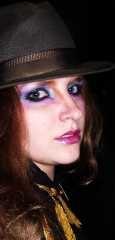 Dorina Pantea is an artist who works and lives in Romania. She holds both a Master's degree and a Ph.D. in Art and Design. Pantea attributes her education to her diverse and complex thinking when she approaches her art. She has displayed her art in numerous exhibitions, such as Expo ArtZept in 2018. Using other mediums besides paints helps to reinvigorate her enthusiasm for art and allows her to continue learning.
"Diversity and originality are two concepts that characterize me. When someone chooses to go on a single road, its vision is blurred and it will not notice anything around itself, this happens in art also, so I chose not to follow only one "art direction", instead I diversified my artistic approach. One thing can be recognized in my work and this is the personal touch of my style, this does not change, it's like a personal and artistic DNA. Beyond the looking glass, you will see the real me." This quote from Pantea is how she sums up the process she uses to create.
Pantea likes to explore multiple forms of art, including traditional painting, digital art, and 3-D art. She believes that diversity is important because it keeps the art from getting too focused and enhances creativity. She specializes in unique portraits of people and can create brilliant characters on her canvas. That is one of the techniques that make her style easy to identify and adore.
Shop the Inspiration
As you gaze upon the pieces included in the Dorina Pantea gallery, notice how the people in all of the portraits appear to come alive with her signature style. Some of her pieces remind the audience of Klimt's work, such as Daphne and Judith Lost Innocence. The use of bold color in Belladonna makes it hard to look away. Beauty of Time is reminiscent of Vermeer's Girl with a Pearl Earring but with a more modern use of color in the background. Even darkness is used in creative ways in pieces such as Perfume of White Roses and Salina. There is a portrait to fit every taste and style by this amazing contemporary artist of the month.