Great Artists as Quiet Earth Activists
Earth Day's theme for 2012 is Mobilize The Earth ™ .  The goal for 2012 Earth Day events is to give planetary citizens the chance to voice their concern for the lack of care by corporate and global leaders toward any sort of sustainable future.  With a global recession taking the spotlight, all other issues have been backburnered, swept under the rug, or put on hold. Concerned planetary citizens can attend events across the world to provide one voice and one message: The Earth Won't Wait.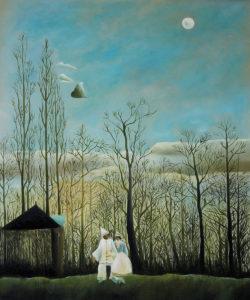 By greening our world on individual, local, national and global levels, a brighter future based in a sustainable and clean economy can be had by all.  A gentle, but not-so-quiet revolution, Earth Day has an explosion of events in which caring people can participate.
The main event – the U.S. rally – will be held from 11 am – 7pm on the National Mall in Washington D.C.  With top musical talent, world-renowned speakers, interactive tech demonstrations, and more, the National Rally is the heart of Earth Day events.
Around the world, thousands of events are planned in every corner of communities. For more information on where an event is closer to you, visit: www.earthday.org.  If you are unable to make any live events, there are several online campaigns in which you can participate and/or learn more about:
Billion Acts of Green (the largest environmental service project on the planet … take the green pledge!), Campaign for Communities (for global leaders to spark community engagement and discussion on  challenges and opportunities related to sustainability), MobilizeU (for college students), Reading for the Earth (a national platform that libraries can use to promote environmental literacy and to inspire youth to read more books), and Know Green (for teachers).
From Rousseau's lush jungle images such as  Woman Walking in an Exotic Forest and Surprise to Renoir's Rocky Crags at L'Estaque and The Seine at Chatou, artists throughout history have been on the forefront of environmentalism – even before it had a name. Quiet Earth activism has been alive and well for centuries, with the great masters giving a voice before a voice was needed.
Although Earth Day is highlighted once a year in April, fortunately Earth Day is every day when a painting of flowers, trees, landscapes or seascapes hangs in one's home. These pieces are reminders that Earth's fragile beauty is something to be treasured and preserved.