Top Ten Pieces to Steal Your Heart
We understand that a high quality piece of art can express a variety of emotions, including love. The right piece , when given as a gift or hung in a particular place in the home, can show someone the depths of feelings that are too difficult to express any other way. We would like to help you find your message by showing you the most romantic paintings we have in our collections. Perhaps one of them will speak to that special person in your life.
1. Gustav Klimt's The Kiss, Close Up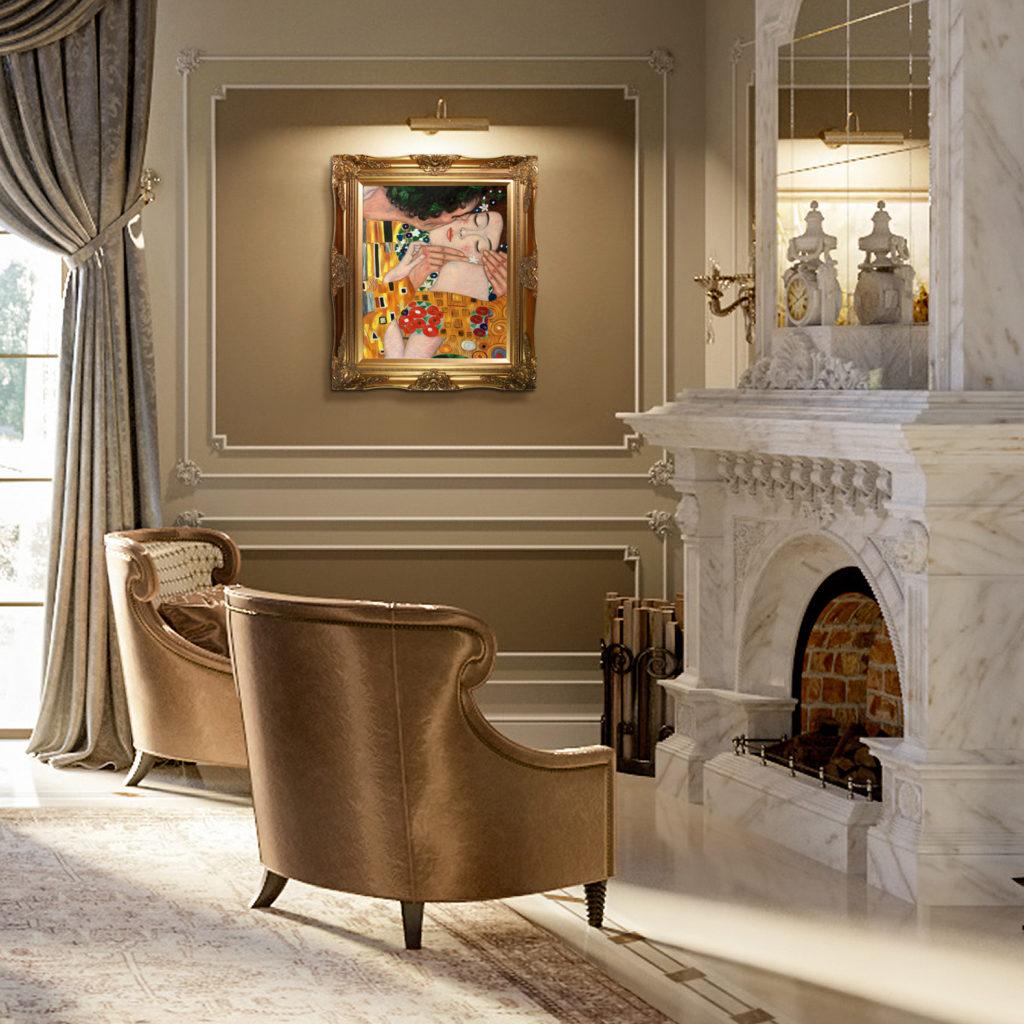 This masterpiece depicts a couple surrounded by a gold blanket and ornaments sharing a moment of sheer passion – the perfect kiss. The identity of the people depicted in this oil painting is not exactly clear; some suggest that it is Klimt himself and his beloved partner, Emilie Floge. Klimt's mature style combines richly decorative surface patterning with complex symbolism and allegory, often with overtly erotic content. Capture the imagination of someone you feel passionately about with this elaborate piece on your wall.
2. John Collier's Lady Godiva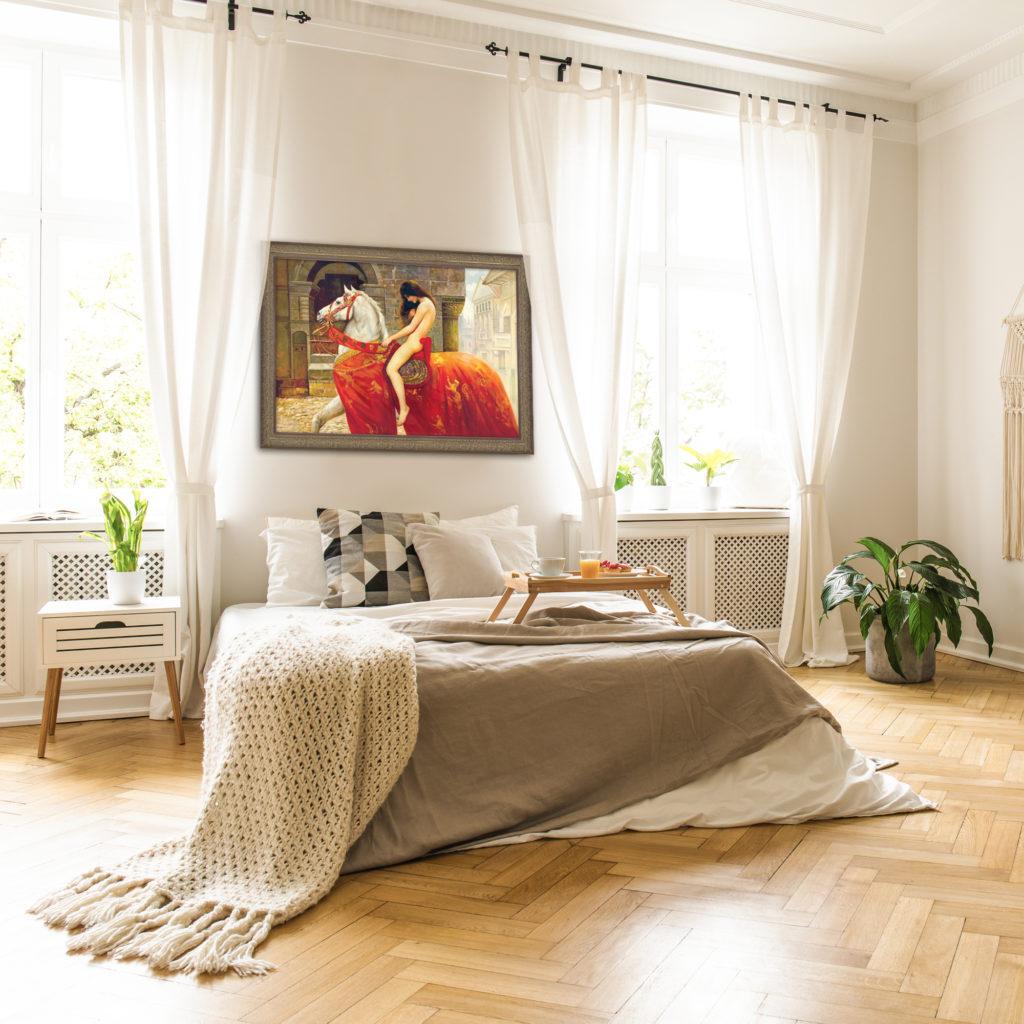 This painting depicts Lady Godiva naked on horseback as part of a story that has existed since the 19th century. Lady Godiva, the wife of Leofric, Earl of Merica took pity on the people of Coventry who were suffering from taxes instituted by her husband and although she asked her husband to abolish the taxes, he would only do so if she agreed to ride naked on a horse through town. In this painting we see the Lady Godiva saddled on horseback covered only by her long hair. Accented with warm red tones and soft light, Lady Godiva is a beautiful example of the Pre-Raphaelite style. Impress all of your guests with this bold and powerful image.
3. Dante Rossetti's Lady Lilith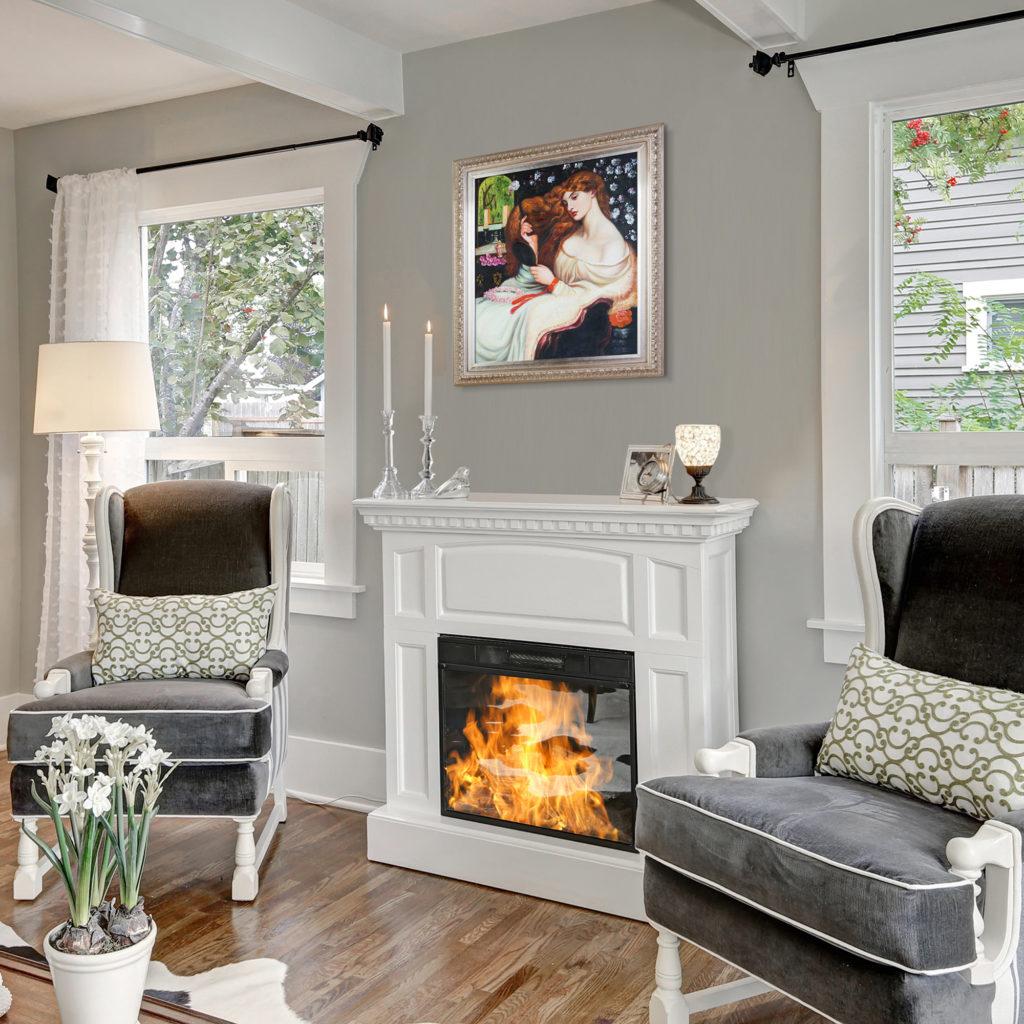 Dante Rossetti often painted subjects that he was emotionally involved with and it shows in each of the beautiful strokes of the brush. You can feel the adoration of the painter as he portrays the woman brushing her luxurious hair in the soft light of the window. The artist uses such vibrant tones and highlights to illuminate every detail, until the subject glows in front the audience. Invite your friends and family over to admire this lovely scene as the painter had intended.
4. Henri Fantin-Latour's White and Pink Roses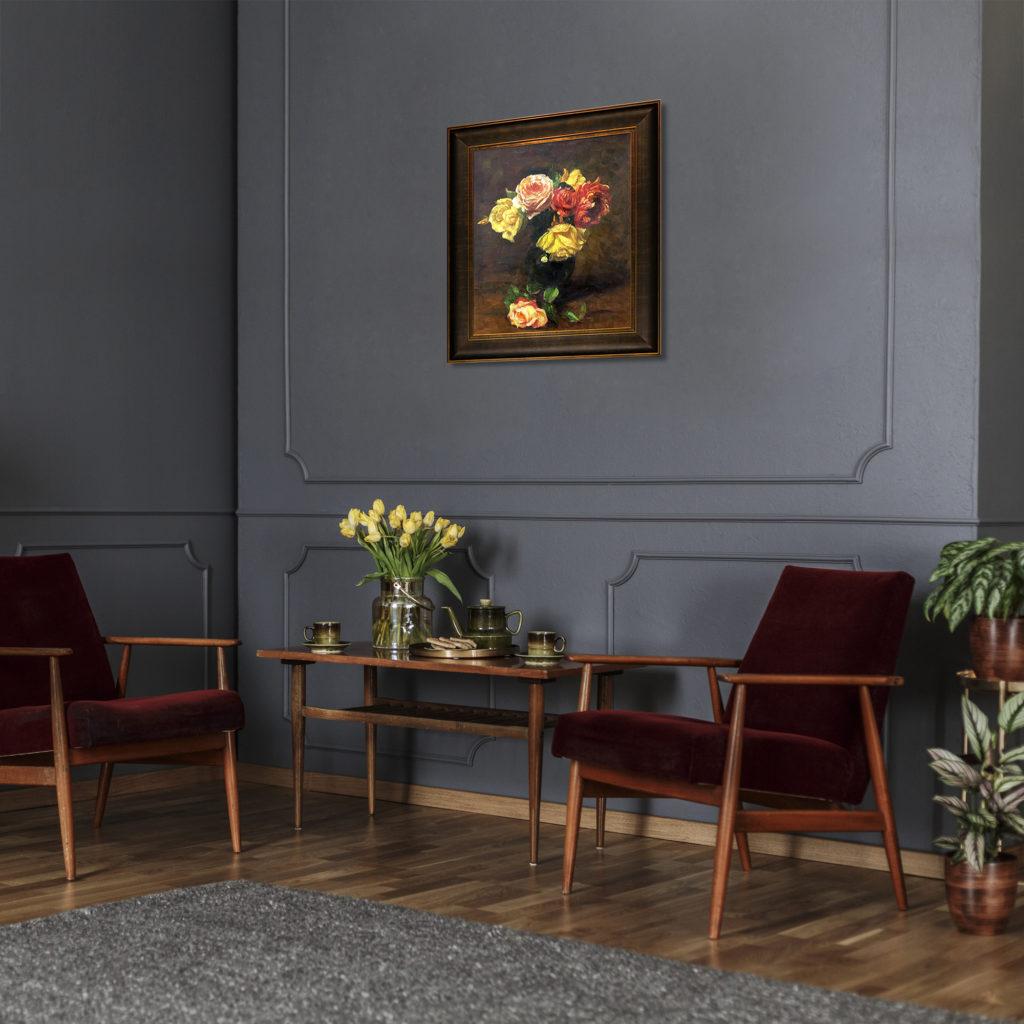 Nothing expresses affection better than a lovely bouquet of flowers, especially one that will last for season after season. This painting showcases the use of light and bold colors that complement each other to perfection. Henri Fantin-Latour knew how to display the subject in a way that is both ideal, yet realistic and highly appealing. This can be given as a gift, or hung as an expression of your feelings for that special person in your life.
5. Pierre-Auguste Renoir's Discarded Roses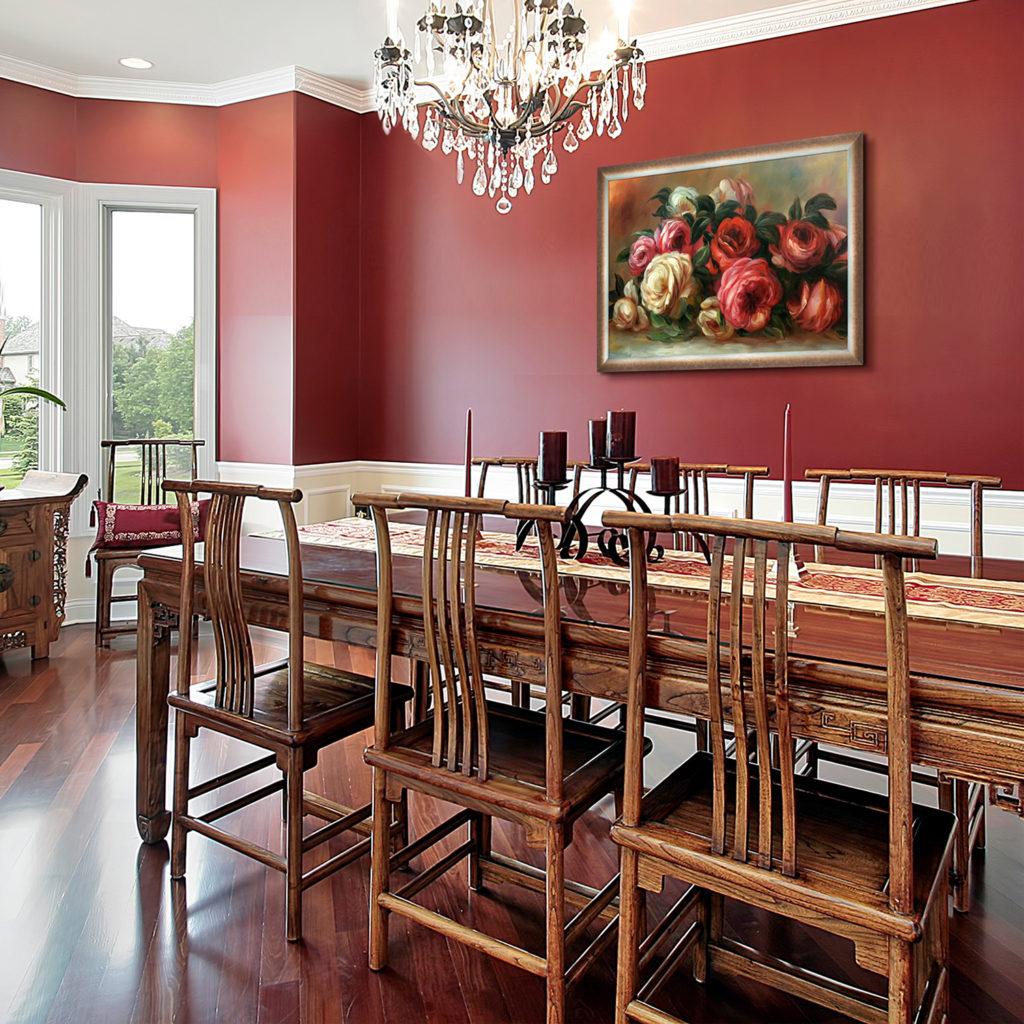 As one of the most easily recognized still life pieces in the world, this painting captures the sweet innocence of a new romance. The beautiful light reflects on the lovely pink, cream and red roses which will add a warm feel and maybe a lady's touch to any room it hangs. Renoir's expert use of color and light gives his pieces a rich sensuality that is almost impossible to resist. Let all those that come into your home appreciate the beauty in such a piece as this.
6. John Singer Sargent's An Out-of-Doors Study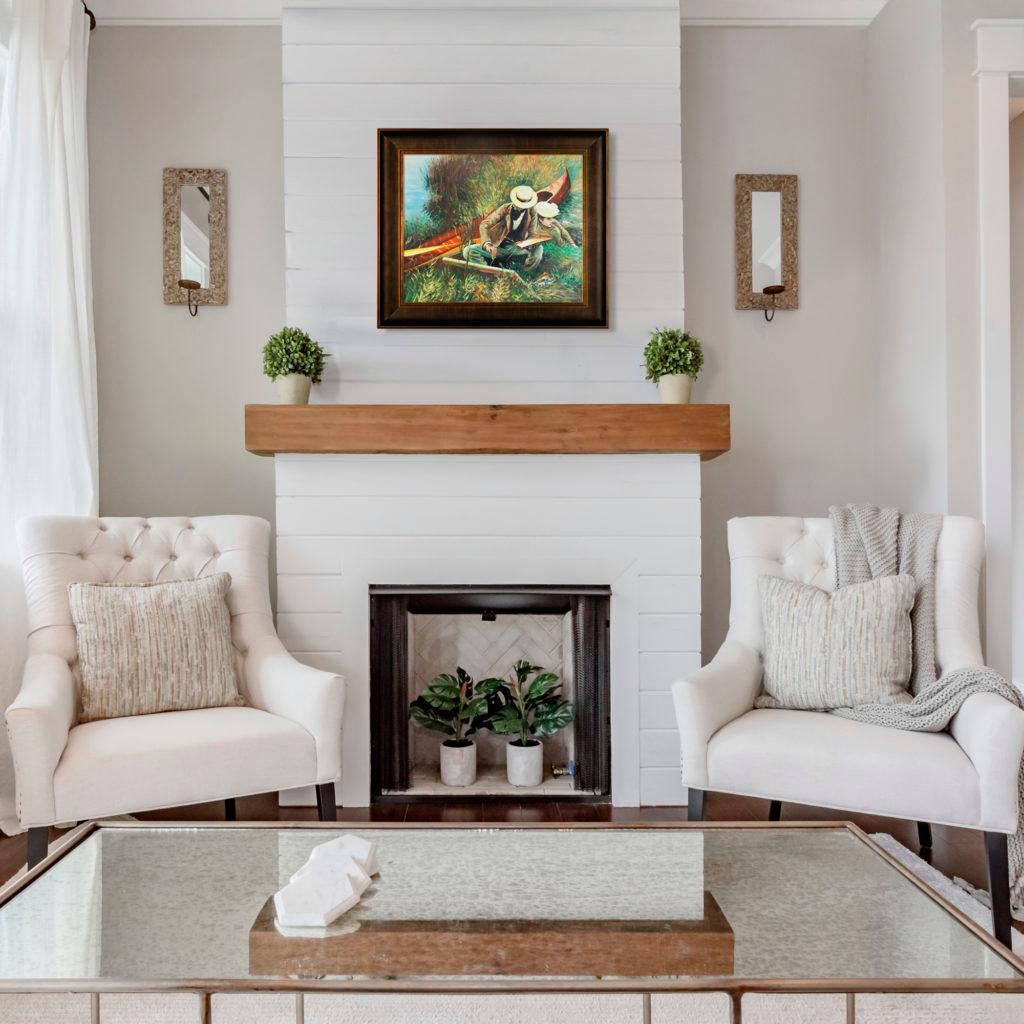 French painter Paul Helleu and his young wife, Alice were visiting Fladbury Rectory in Worcestershire the same summer that Sargent was. This painting is a scene that shows an artist's love of painting. Sargent carefully records the precise pose of Paul's hand and his intense concentration as he applies paint to his canvas, while Alice gazes away from her husband. Within this refreshing scene, Sargent creates a careful portrait study of his friends doing what they love. Show that passion can create art by hanging this lovely piece in your home.
7. Pierre-Auguste Renoir's Dance in the City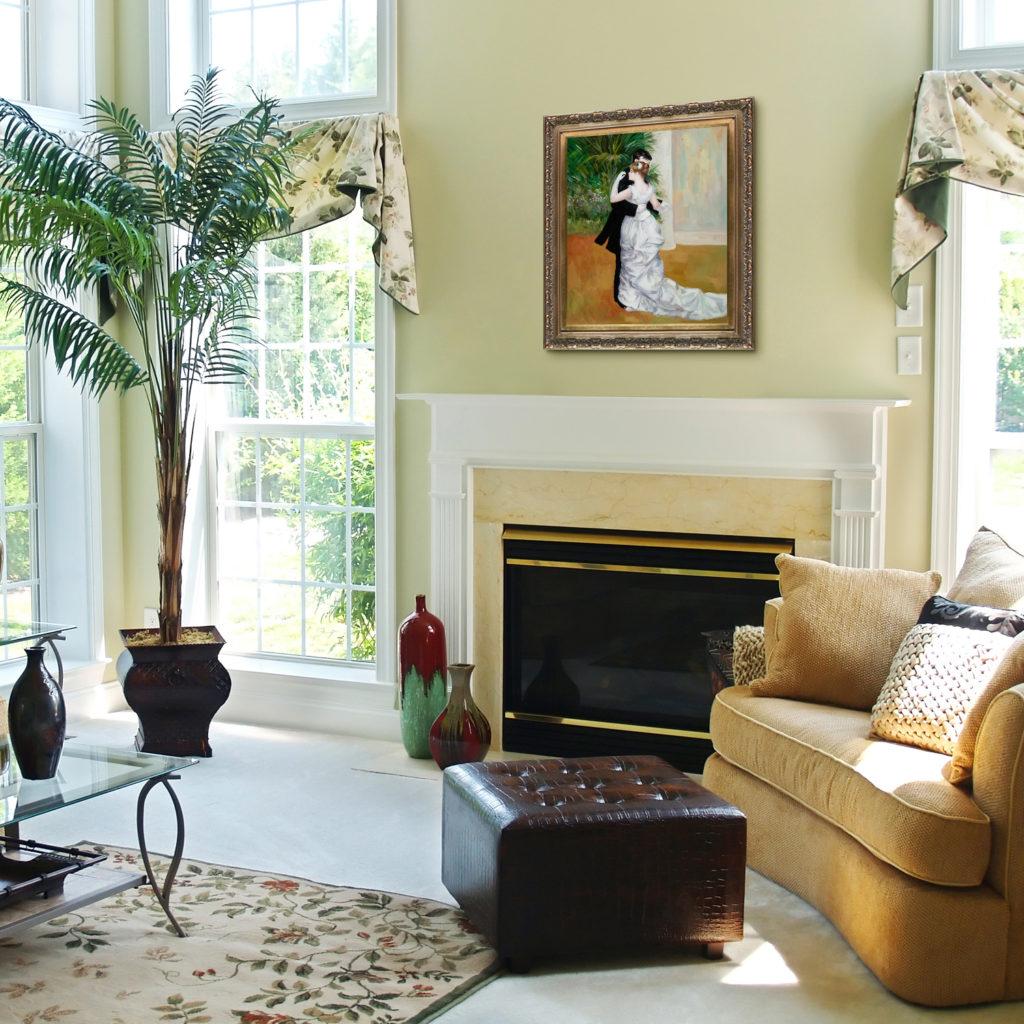 In this piece, Renoir has given us a scene of two dancers being swept away by the music that we cannot hear. Although we can only see the woman's expression we can imagine that the two are having a wonderful time together. There is an energy in the way they are depicted that sparks hope for the young couple. Infuse one of the rooms of your own home with this same kind of vibrant energy with a copy of this piece of your own.
8. Lord Frederic Leighton's The Fisherman and the Syren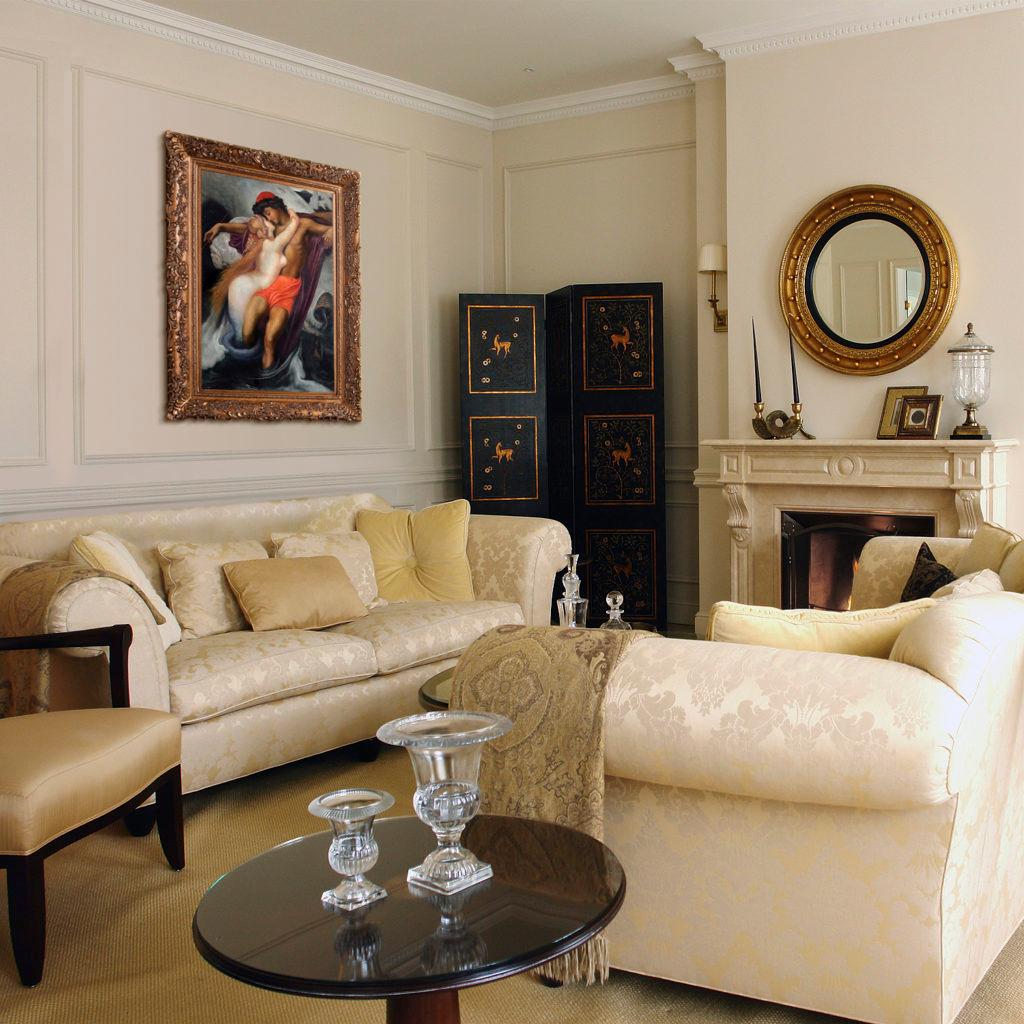 This piece captures the idea of temptation and gives it a human form. A hallmark of Leighton's work is a sense of classical eroticism, and his Fisherman and the Syren exemplifies that. Exhibited at the Royal Gallery in 1858, this work was marked by a poem by Goethe, which read "Half drew she him, half sunk he in, and never more was seen." We see the young man, unable to resist the allure of the sea creature, being pulled down into the wave. Give your guests something to talk about by placing this in a place where it can be easily admired.
9. Gustav Klimt's Adam and Eve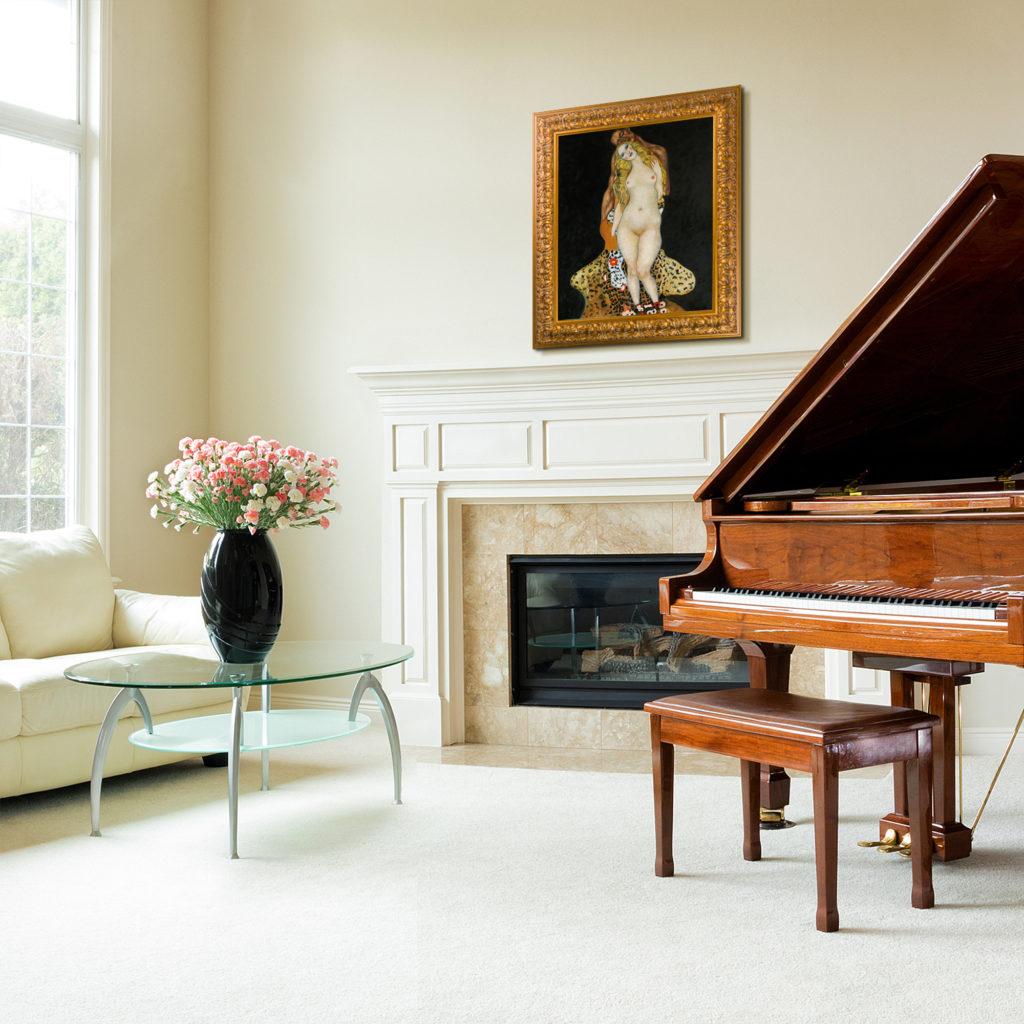 The biblical couple Adam and Eve are on display in this elegant piece. Klimt draws the audience's attention to the appearance of Eve with bright colors in the foreground. Klimt is known for his esteemed depictions of women, so it is not surprising that Eve is dominating the painting.
Even in the private life of the artist women played a greater role than men. Allow those you know to share your admiration of women by welcoming them to view this piece of art with you.
10. Francesco Hayez 's The Kiss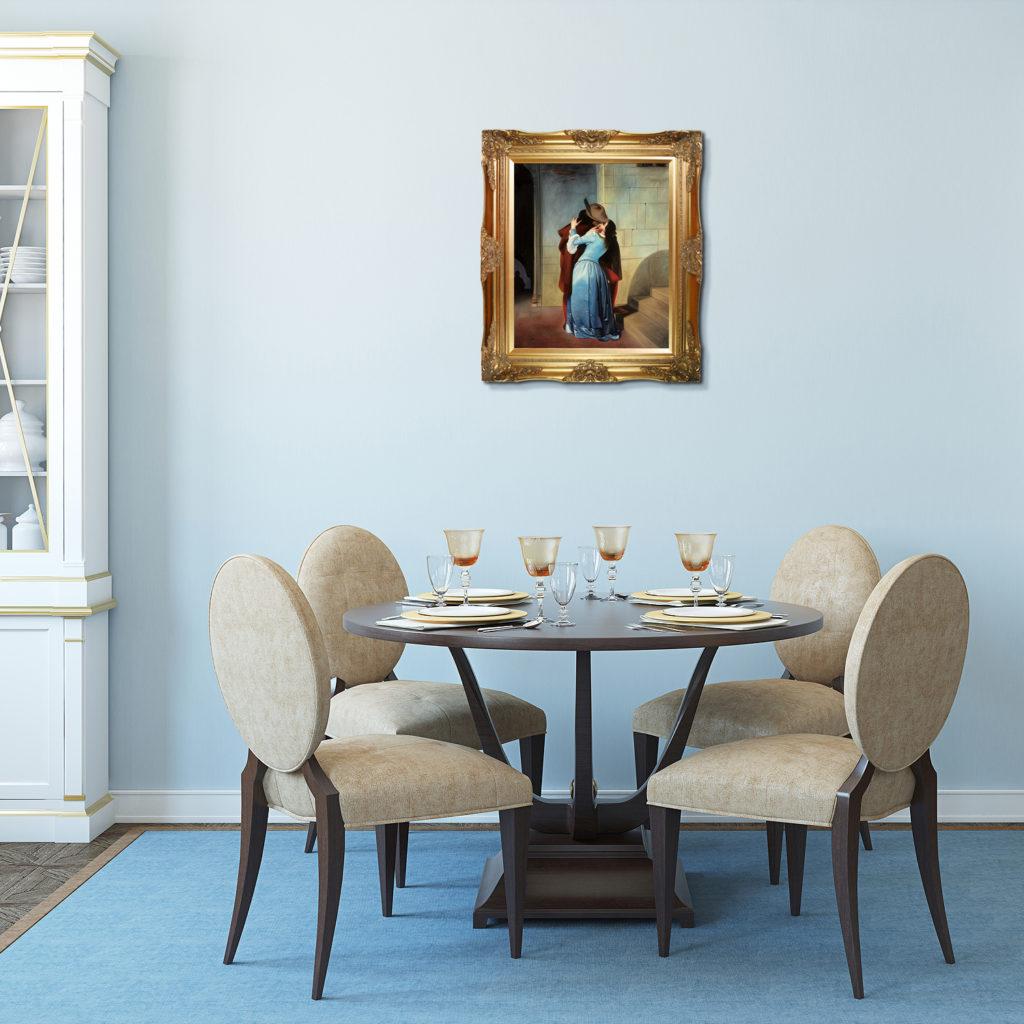 This painting remains one of the most iconic Italian paintings ever. The Romanticism movement focused on personal emotion and individualism. This painting carries rich color, lush lighting effects, and a beautiful symbol of unity and affection. With high contrast of the dramatic lighting on the woman's blue dress and the deep shadows under the man's red cloak, evoke a dramatic sense of emotion. The audience can feel the sense of urgency in the two lovers. Bring a little of that drama into your own home by hanging up this wonderful piece.
We hope that this list has given you at least an idea of what might be perfect for your own life. If you haven't found what you are looking for here, please feel free to browse our Romance gallery for more ideas. Here at overstockArt, we strive to provide the right piece of art for anyone, in any mood.