Holiday Gift Guide 2022: Spouses and Children
Spouses: Display Your Love

Art is one of the most precious ways you can express your feeling to the one that you love. Artists have been attempting, and succeeding, at showing us what a couple in love really looks like. Here are some of our favorite paintings that display the love between two people, so that you can show your love what you are feeling.
The Abduction of Psyche by William-Adolphe Bouguereau has a wonderful portrayal of love and innocence that is sure to capture the heart of someone special to you. Bouguereau created idealized worlds with his almost photo-realistic style and was very popular with rich art patrons. In this piece, he brings to life the story of Cupid and Psyche, capturing the moment the two ascend to heaven with Psyche in the arms of her true love.
Pierre-Auguste Renoir's Impressionist technique reached its peak when he painted Dance in the City. His fully defined technique rendered facial expressions and movements masterfully. Renoir loved to paint dance scenes and this piece, along with its companion piece, portrays a dreaminess and tenderness that is utterly Victorian. You can see how in love the couple are as they move across the floor in each other's arms.
Gustav Klimt, the Vienna master of symbolism, painted The Kiss, which depicts a couple surrounded by a gold blanket and ornaments sharing a moment of sheer passion – the perfect kiss. Klimt's mature style combines richly decorative surface patterning with complex symbolism and allegory, often with overtly erotic content. Share the rapture of these two lovers with someone special this holiday season.
Children: Capture Their Whimsy
One of the most wonderful things about children, is their sense of whimsy. Art is able to capture that same feeling in a unique way that will last long into their adulthood. Give the children in your life something to help their imaginations blossom with one of these magical depictions in oil paint. They will always remember you for embracing the wonder of the holiday season.
Child with Birds and Dog was painted by Edward Mitchell Bannister, who was a black Canadian-American Tonalist painter. Much of Bannister's subject matter included still life's and landscapes, making this painting of a young girl playing with her pets unique. His blurry details and muted color palette, give the scene a dreamlike quality that will bring back memories of childhood for anyone you share it with.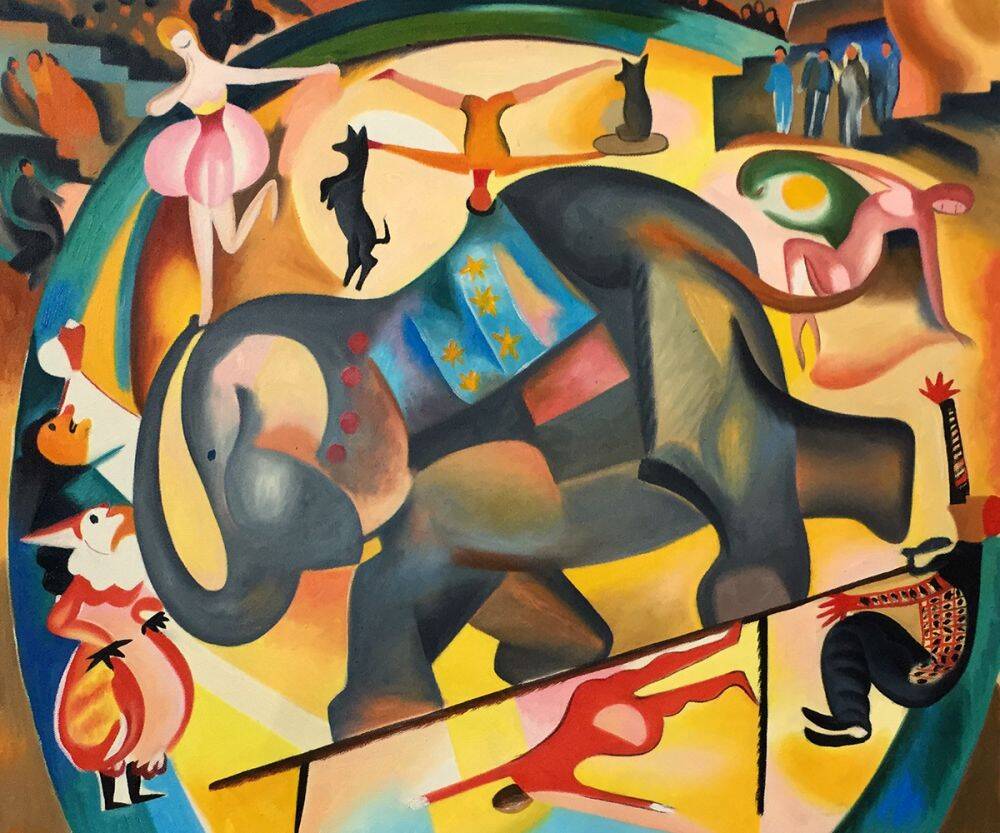 Avant-garde Swiss artist Alice Bailly drew inspiration from Fauvism's vibrant colors for this circus scene called The Elephant. Her juxtaposition of clean lines with rougher brushstrokes makes for a really dynamic image. This piece by one of the 20th century's most groundbreaking female artists is sure to capture the attention of adults and children alike.
Edgar Degas is perhaps best known for his paintings featuring dancers and Dancers in Blue is a fine example of the innovative style that made these Degas paintings so popular. The group of ballerinas are huddled together in a quiet yet energized moment taking place just before they go onstage. A child of any age will appreciate that feeling and respond to the excitement as they hang it in their room.
Artwork is a great way to express your feelings to someone you care about when you can't find the perfect words. Giving them the perfect piece of art shows how much you appreciate them and allows them to enjoy the sentiment for years to come. You can look for more ideas in our Children's Room gallery or our Romantic Art gallery. Let the spouses or children that help you create your family know how you feel, by purchasing one of these or one of the many other pieces we offer as the perfect holiday present.