It's Not Van Gogh, It's His Brother
Last week, the Van Gogh Museum told press officials that a known self-portrait by Van Gogh isn't really the artist, it's his brother, Theo. Vincent Van Gogh's brother was a major patron of his artwork, supporting Vincent throughout most of his life, morally and financially.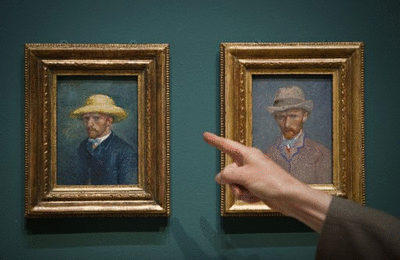 Art historians at the museum say that if this is true then the "self-portrait" will be the only known portrait created by Van Gogh of his brother, aside from casual sketches. Museum spokeswoman Linda Snoek said that the piece was rendered in 1887, when the brothers resided together in Paris. It seems this era of Vincent Van Gogh's life isn't well known, except through a few letters exchanged between the brothers.
The brothers are close in resemblance, but scholars say that it is in fact Theo for a number of reasons. A CBS news source shares the following comparisons, "The portrait of Theo shows he had rounder ears than Vincent did. The other portrait shows Vincent with long, angular ears, consistent with other artists' paintings of Vincent. That is before he famously self-mutilated one of his ears in December 1888.
In addition, Theo's goatee is more yellow-brown than Vincent's dark red beard, and Theo has shaven cheeks, consistent with photographs of him from the same period, while Vincent painted himself sporting mutton-chop sideburns."
Another Van Gogh Self-Portrait (1887), with "mutton-chops"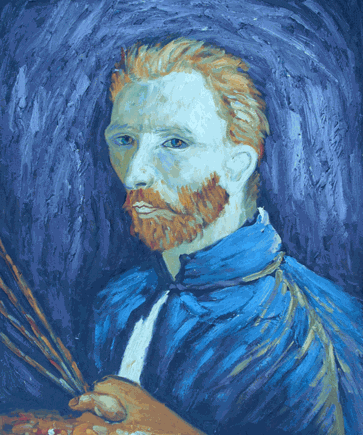 Van Gogh rendered this self portrait in 1887. He made the move to Paris to live with Theo in 1886, aged 32 years. This was at the height of the Impressionist movement, where he was inspired by and moved alongside Monet and Gauguin. He and Gauguin worked together in Arles, where Van Gogh painted sunflowers to help decorate Gauguin's residence. Interestingly, the sunflowers are later found in several of Van Gogh's artworks. The exposure to Impressionism inspired the use of dramatic color in his modern art pieces.
In 1888, mental illness began to become more evident. It was the year that he suffered from bouts of epilepsy, psychotic attacks, and delusions. In one episode he took a knife to his ear and severed it, and later offered the removed ear to a prostitute. This was the same knife he assaulted Gauguin with earlier in the day. Before the episodes became severe, Van Gogh dreamed of creating his own school with Gauguin and other artists.
Vincent left Saint-Rémy-de-Provence in 1890 and regained contact with Theo. Though he viewed his life and work as a failure, he continued to paint a new work almost daily. Paint flowed through his veins. It was during this time that he created Starry Night, a beloved favorite for most in the world. Whatever fueled his artwork could not be rendered fast enough, like many artists who speak of death at the hands of their muse.
On July 27, 1890 Van Gogh shot himself in the chest and survived the suicide attempt, but he died from the wound two days later. Theo was devastated and inherited the majority of Vincent's work. Six months later Theo, too, died. His widow took Vincent's work to Holland to advocate for the work of a brilliant artist and his most supportive patron, his brother Theo.