Nazi Degenerate Art Loot To Be Published Online By the Victoria and Albert Museum in London
The Victoria and Albert Museum (V&A) in London will be publishing the only surviving copy of the Nazi list of "degenerate art," which are the artworks that Hitler and the Nazis set out to destroy; the modern art particularly popular on the list was Expressionism. Of course, nothing here is new in terms of knowledge, but it will be interesting to have a searchable collection of the artworks on the V&A website, which will be available as early as February.
The original list was compiled by German museums as Entartete Kunst between 1937-38 at the height of the Second World War.  This list was split into two volumes (cities A-G and G-Z)  as an alphabetical inventory of cities, often identifying buyers of works as well as prices. "X" marks places where works were destroyed. As many as 5,000 paintings, drawings, and prints are thought to have been burnt in the courtyard of Berlin's main fire station in 1939. Two copies of A-G listings survive in Berlin archives. G-Z  was presumed lost until the widow of London art dealer Heinrich Fischer donated a copy to the national art library at the V&A. It is unknown where Fischer obtained his copy. The inventory spans 480 physical pages.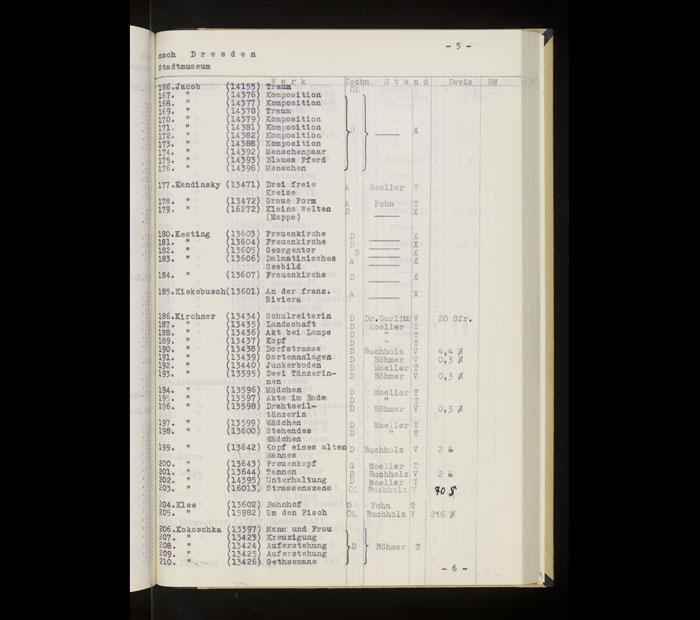 This decision to publish the inventory by V&A could not be more timely. In April 2013, much of the world learned of the more than 1,400 works of art recovered in the apartment of Cornelius Gurlitt, the son of the dealer Hildebrand Gurlitt, a substantial number appear to be "degenerate art" that had been deaccessioned under the Nazis. Intense research is still underway regarding the seized collection from the Gurlitt apartment. While returning the works to the families of those who had to give up the works remains difficult (if not impossible) a route to navigate, the release of the inventory to the general public is an important contribution to art history.