One Billion Euro in Art Stolen By Nazis was Recovered but Kept Secret by the German Government
An estimated one billion euro ($1.35 billion dollars) worth of artwork was recovered in an apartment in Munich, Germany in 2011. Up to 1500 paintings are said to have been claimed by authorities. Many of the paintings rendered by renowned artists. The artists among the works are such names as Edgar Degas, Pablo Picasso, Henri Matisse, Marc Chagall,  Paul Klee, Oskar Kokoschka, Franz Marc, Max Beckmann, Emil Nolde and Ernst Ludwig Kirchner. 'Focus', a German news magazine, broke the story as recently as April of 2013.
A collection of engravings, printings, and paintings was discovered among decades old tin cans of food by Bavarian tax authorities when they raided a rundown apartment in the Schwabing district for tax evasion, according to Focus. The works forming the cache are associated with Hildebrand Gurlitt and are said to be recovered from his son Cornelius Gurlitt; apparently Hildebrand Gurlitt (1895-1956) was one of only four dealers given permission by the Nazi authorities to buy and sell works of art seized as "degenerate art."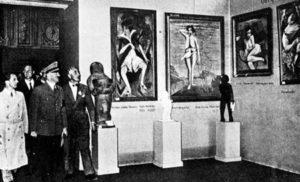 Berlin art historian Meike Hoffmann is busy studying the artworks and is fascinated by a missing part of culture now having resurfaced. Many relatives of families with artwork stolen during World War II  are waiting to find out how and if the works can be handed back to the original owners, or at least, as decades have passed–the family line. Art experts and media in various countries are questioning why it has taken so long for the news to reach the world, particularly why two years have spanned since the news broke in Germany.
Christopher Marinello of Art Recovery International shares with CNN that "the details of the paintings should have been published online as soon as they were found "so that the entire world could stake a claim," and also adds, "We were told they were worried about the number of claimants that would come forward, but two years is a long time to wait," he said. "People died. Claimants of this era are in their 80s and 90s, and records are disappearing."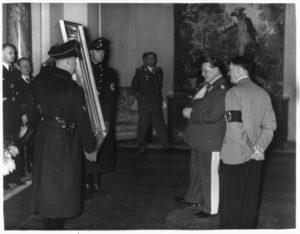 Though, a list of stolen art compiled by U.S. Troops in the 1950s may assist with matching heirs to the paintings, according to Bloomberg: "U.S. troops vetted Hildebrand Gurlitt's collection — including works by Max Beckmann and Edgar Degas — and handed it back to him 63 years ago, according to a custody receipt that Marc Masurovsky and Willi Korte, researchers at HARP, found yesterday in the National Archive in Washington."
Rumored works to be in the collection according to Bloomberg are:
Beckmann's "Lion Tamer," which Cornelius Gurlitt sold via Kunsthaus Lempertz in Cologne in 2011 after settling with the heirs of Alfred Flechtheim, a Jewish dealer persecuted by the Nazis and forced to flee Germany.
A Degas nude, several Beckmann oils, two Courbet paintings and an Otto Dix self-portrait.
The German government is faced with a challenge regarding how to deal with recovered art originally looted from public and private collections. As claims for the artwork increase, it will be a long and arduous process to analyze, though Steffen Seibert, Chancellor Angela Merkel's chief spokesman in Germany says that the government is committed to finding just and fair solutions. Seibert also states that the German government is examining ways to help Augsburg prosecutors publish details of at least those works that are known to have been looted.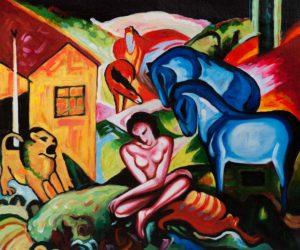 Bloomberg reports that Marc Masurovsky, founder of the Holocaust Art Research Project, states "Gurlitt regularly acquired works at the Jeu de Paume in Paris, where the Nazis assembled art looted from French Jewish families during the occupation. Under agreements between the Allies, art looted from France was returned to the French government after World War II. "I am wondering when the German government is going to call France about returning some of this," Masurovsky said. "There are clearly some works in the collection that came from France."
The issue is certainly complicated, but it seems thus far officials are working together to establish organized systems to deal with the situation.