ArtistBe.com – Find the next great artists of our time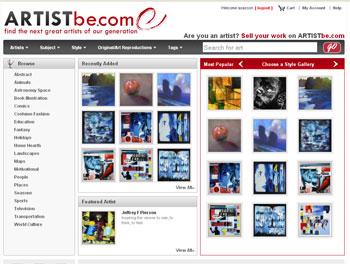 ArtistBe.com, also called 'Artist Become', is the new online community for contemporary artists around the world. ArtistBe.com is the latest venture by the popular online art gallery overstockArt.com, which announced its public beta launch last week.
ArtistBe.com is an online platform providing tools and resources to enable emerging and established artists to pursue their artistic and professional goals. ArtistBe.com membership is free and open to all. Members can create a profile and upload an unlimited quantity of their artwork. ArtistBe.com allows artists to exhibit, promote, share and sell their artwork via the online gallery. The actual launch date of ArtistBe.com has yet to be determined.
ArtistBe.com is looking for talented contemporary artists of all levels to join the community and become founding members of the site. The first 80 artists who join ArtistBe.com during its beta test will be able to list on ArtistBe.com for free.
"We are looking for early adopters to join us for the launch of what promises to be an expansive, vibrant community of contemporary artists," said David Sasson, CEO of overstockArt.com. "ArtistBe.com will give its member artists the unique opportunity to share and sell their work to art enthusiasts around the world – something they cannot do by simply displaying their artwork at a local gallery."
Artwork on ArtistBe.com can be purchased as an original piece of art, fine-art print or affordable poster. There is a large variety of framing options for all of the artwork sold on the site. Like overstockArt.com, ArtistBe.com has arranged its content into a variety of different galleries. Galleries are specified by artist, subject, style and type. The site is extremely user-friendly and easy to navigate.
"Since its inception in 2002, overstockArt.com has established itself as the go-to source on the web for purchasing art reproduction oil paintings," stated Sasson. "Our goal for ArtistBe.com is in the same vain – to become the web's go-to source for purchasing artwork from contemporary artists around the world."