Summer Decorating Trends Inspired by Outdoor Elements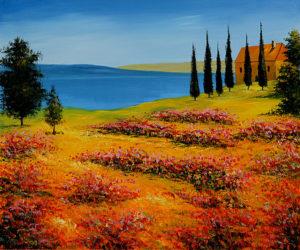 Bring the fresh look of summer into your home with the season's hottest decorating trends. Design Expert Dawn Kail of overstockArt.com, makes it easy to incorporate hip home décor styles with a top five list of decorating trends and tips for summer.
"The trick to decorating for summer is to bring the outdoors in," said Kail. "With some simple changes to your décor you can liven up your look with inspiration from outdoor elements."
Add summer style to your home with Kail's top five decorating tips:
Beach chic – Bring the sun, sea and sand indoors with beach-inspired decorating. Neutral tones paired with cool blue hues bring the sea and surf to life. Comfortable fabrics like linen and cotton are synonymous with beach style and can be used in decorative pillows, slipcovers and draperies. Use driftwood and assorted white seashells to create a breezy vignette for your mantelpiece or entry or hall table. This laid-back style creates the perfect setting for casual summer living.
Sunny inspiration – Allow the sun-drenched shades of sunflowers to inspire your home decorating. Bring the sunshine in with the bright yellow of these flowers. Make a statement with striking floral arrangements featuring sunflowers placed throughout the home or make the flowers the focal point of a room with wall art. Claude Monet's famous oil painting "Sunflowers" is a great example of a fine art piece that will bring a burst of this summer shade to your space.
Pretty in pink – Pink is the color of the year. Honeysuckle, Pantone's 2011 Color of the Year, is the brilliant red-pink shade that is brightening up fashion and home trends this year. Make a loud statement by adding this dynamic color to your walls or with home
furnishings or make a lively, yet subtle statement by incorporating the stunning shade in accent items like pillows and tabletop top accessories.
Bring the outdoors in – Bring outdoor decorating elements into the home. Decorate indoors with items made of metal, worn wood and wrought iron. Incorporate pottery traditionally used outdoors in the home. Terracotta and ceramic pots of various shapes and sizes have a rustic appeal and the greenery brings the outdoor feel inside.
Full bloom shades – Summer blooms are bright, bold and luminous. Offset neutral rooms with this season's trendiest hues – purples, oranges, pinks and bright yellows. Incorporate these vivid colors with brightly colored draperies, wall treatments, throw pillows, an arm chair and art work to liven up your look.
"You don't have to spend a fortune to add seasonal style to your home décor," said Kail. "You can save money and still get the look of luxury by shopping around. The best thing about purchasing reproduced oil paintings at overstockArt.com is that for the same price of purchasing a print image you get a museum-quality hand painted piece of art."
overstockArt.com makes it easy to find summer wall art for your home with its Seasonal Summer Gallery.
Before I go, I wanted to wish everyone an awesome Summer! Full of fun, family and romance!