Yuri Tayshete-Fresh New Taste for Summer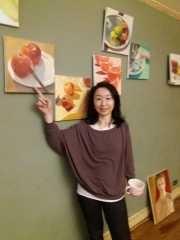 Our ArtistBe artist this month offers a fresh taste just in time for summer. Yuri Tayshete was born near Tokyo, Japan, but has lived in New York City since the mid-nineties. She is a self-taught artist who mainly works with oil paint and prefers to capture still life subjects. Tayshete considers 2017 to be the official beginning of her art career even though her work has been displayed in New York galleries for a long time. Currently, she is a member of the Art Student League of New York and a Red Dot Prize winner.
She describes her art as Contemporary Still Life. By applying dynamic brush strokes and fresh colors, Tayshete creates intense poetic moments with the use of ordinary objects. She wants to find the beauty in everyday things and bring harmony to the world through her art. Places that she finds inspiration for her art include Central Park, cafes, and supermarkets. She is constantly looking for moments that capture light and shadow.
Many of the pieces we showcase in the Yuri Tayshete gallery center around food displayed on a sunny table setting. See the way the light seeps through the glass on Candies on a Blue Glass Plate, Yellow Pepper on a Green Plate and Blue Glass Cup and Saucer. Bell peppers make further appearances with warm hues in such pieces as Orange Pepper and Orange Pepper in a Blue Glass. Fruit takes center stage and looks delicious in both Cut Mango and Lined Up Grapefruit. While tulips breathe fresh air into One Tulip and Tulip with Four Jordan Almonds.
Any of her artworks will add an energetic summer feeling, bringing a fresh taste to any room of the house. Her use of light and bright colors, make each one feel like sunshine is pouring in. Capture the essence of the season all year long with one of the high quality prints from our artist of the month.