THOMAS KINKADE AND J.M.W. TURNER: PAINTERS OF LIGHT
At only 54 years old the self-proclaimed "Painter of Light®," Thomas Kinkade, was found dead in his California home on April 6.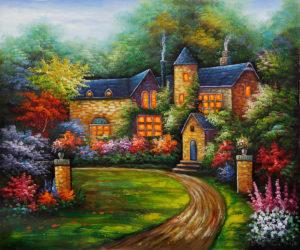 From his copyrighted tag, "The Painter of Light®" to his mission statement, Kinkade combined talent of universal enchantment with savvy business acumen.
With over 1,000 works, Kinkade was a prolific genius who captured the zeitgeist of the public. By marketing to his audience with reproduction prints and other licensed products (calendars, greeting cards, etc.), Kinkade reached millions of people who might not otherwise have any interest in art. His paintings are said to hang in 1 out of 20 homes, proof of his mass appeal and marketing genius.
Kinkade's works include an array of subjects: bucolic cabins, nature scenes, lush gardens, classic cottages, inspirational scenes, lighthouses, stunning seascapes, and classic Americana. The play of glowing highlights, color, and shadow lend a spiritual feeling to his paintings.
Kinkade's hallmark use of capturing light and magnifying it onto the canvas seems to have been directly influenced by J.M.W. Turner. This influence even extends to his moniker.  Joseph Mallord William Turner (J.M.W. Turner)  (23 April 1775 – 19 December 1851) has been referred to as a painter of light (the original). Renowned for his oils, Turner is also famous for his watercolor landscapes and a precursor to Impressionism.
Nature was most often Turner's subjects, including the grandeur along with her violence. Shipwrecks and natural catastrophes were captured along with storms and sunlight. His use of light in his work was, to him, the manifestation of God's spirit. This seems, also, what Kinkade's ultimate goal: to capture the spirit.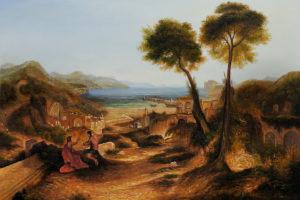 In Turner's landscapes and seascapes, the sparkle of light on water and the radiance of the sky was ephemeral and hypnotic. In some of his earliest works, such as 1795's Tintern Abbey, traditional English landscape techniques can be seen. Open sky peeking through soaring archways, as light breaks through the heavens to earth is a glimpse of grandeur, a subtle reflection of spirit.
Turner's later works such as The Bay of Baiae with Apollo and the Sibyl (1823)  and The Devil's Bridge Saint Godard (1841) concentrated less on objects and more on nature. Showcasing spirituality in his paintings was of paramount importance – much like Kinkade.
Perhaps for Thomas Kinkade, his ability to bring joy to people was his primary purpose and his ultimate gift.
From Kinkade's official website:
"My mission as an artist is to capture those special moments in life adorned with beauty and light. I work to create images that project a serene simplicity that can be appreciated and enjoyed by everyone. That's what I mean about sharing the light."
For critics, Kinkades's body of work was no more than kitsch.
For fans, his paintings were a slice of heaven and a glimpse of the American dream.
In today's world, is it really such a bad thing to create works of art that easily tap the imagination and speak to the soul?