Unbeatable 2018 Top 10 Art of the Year!
Art will forever remain precious in our hearts as art lovers. The year is at its final moments once again, and we at overstockArt.com are here to present to you our top ten list of stunning and groundbreaking arts of these twelve months! Each painting has been selected based on the interest and purchase of our customers throughout the year.
The list is packed with stupefying surprises! From the sudden appearance and rise to the first position made by Justyna Kopania to the last year's reoccurring piece from renowned impressionist, Renoir, Discarded Roses. There are no dull moments!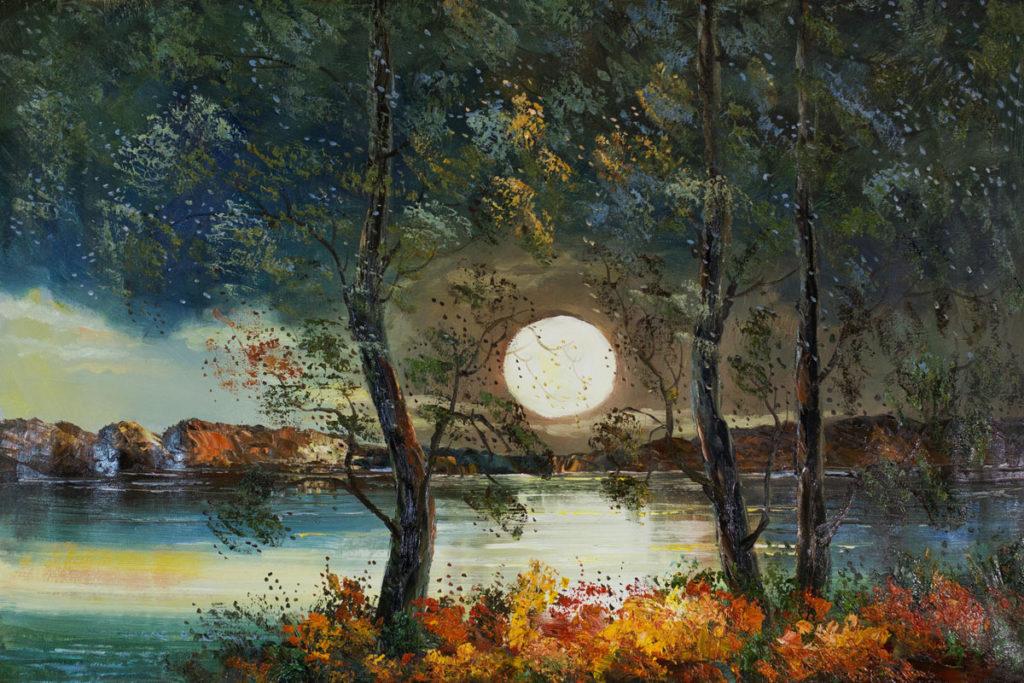 Justyna Kopania has continued to demonstrate through her "world" painting theme that there is a lot of splendor, beauty, and thrills in the world around us. We are just too busy to see them. In this her most magnificent work yet titled Moon, she brings the mind of art lovers and all viewers to the hidden aesthetics, tranquility, and satisfaction that nature holds. The hand painting depicts a large bright full-moon at the center of it all. Its warm and calming rays are strong enough to light up the night sky and give life to the comeliness of the river, trees, bushes, and highland. In one aspect it reminds you of people who bear the same resemblance and gives you a sense of calm and peace when you need it.
#2 Pierre-Auguste Renoir – Discarded Roses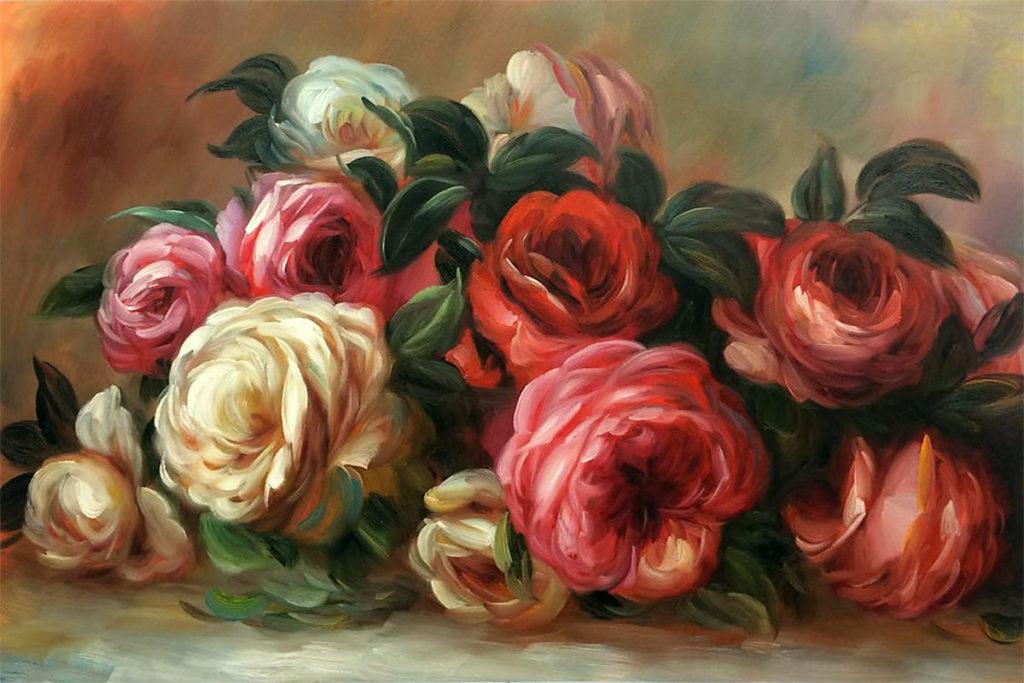 Pierre-Auguste Renoir remains a legend of impressionism and art. In this his stunning and very detailed hand painting titled Discarded Roses, the artist showcases his expert skills as well as a strikingly clear message for all to see. The painting pictures a vibrant spray of cream, pink, and red roses that have been abandoned. Looking closely, one can see the light zooming across these forsaken flowers from the left to the right, a distinct attribute of earlier impressionism. The art gives a sense of hope and peace to viewers while sending out a clear message that no one is discarded and can in any state or place they find themselves, bloom.
#3 Gustav Klimt – Apple Tree I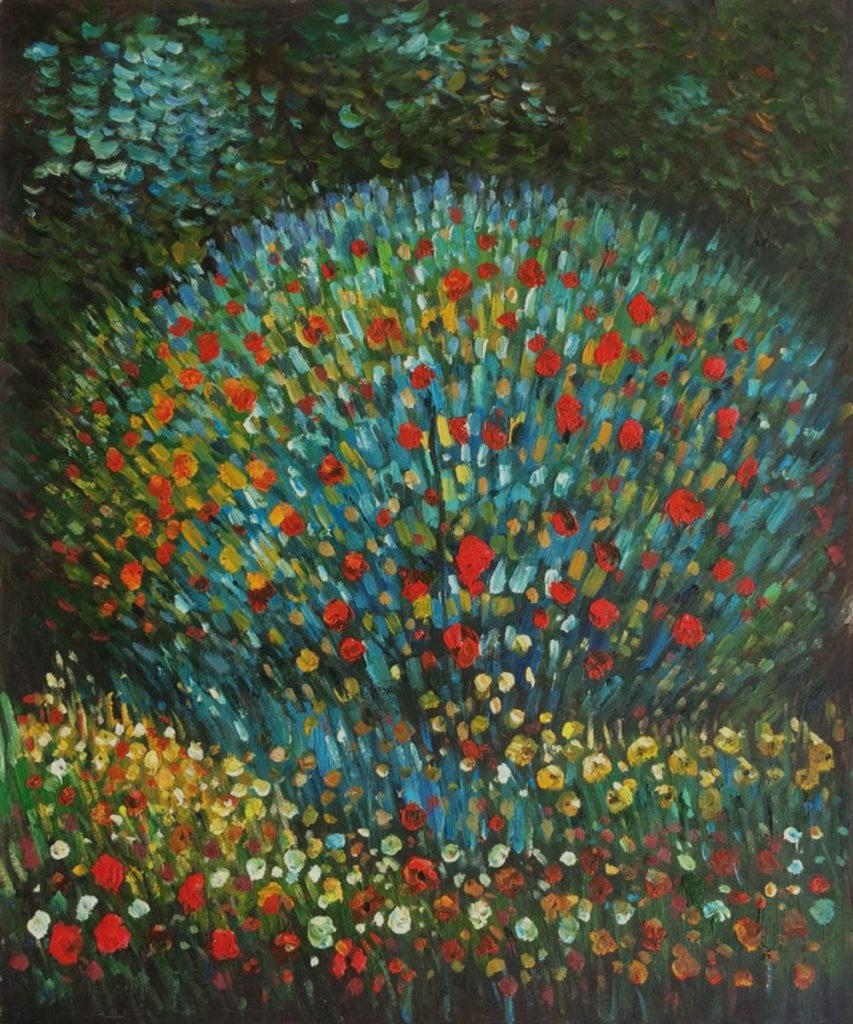 Gustav Klimt is another legend of art in his time and a controversial artist too. The Apple Tree is one of his richly symbolic and inspiring paintings out there. Though overstockArt.com doesn't have the first masterpiece created by the genius artist himself in 1912, this is a near perfect version that we have carefully matched color for color and pattern for pattern. As is the stylemark of his craft, this oil hand-painted art piece combines matured and richly decorative patterns with symbolism. The Apple Tree is a perfect combo for those art lovers who look beyond the surface.
#4 Pierre-Auguste Renoir – Grande Vase Di Fiori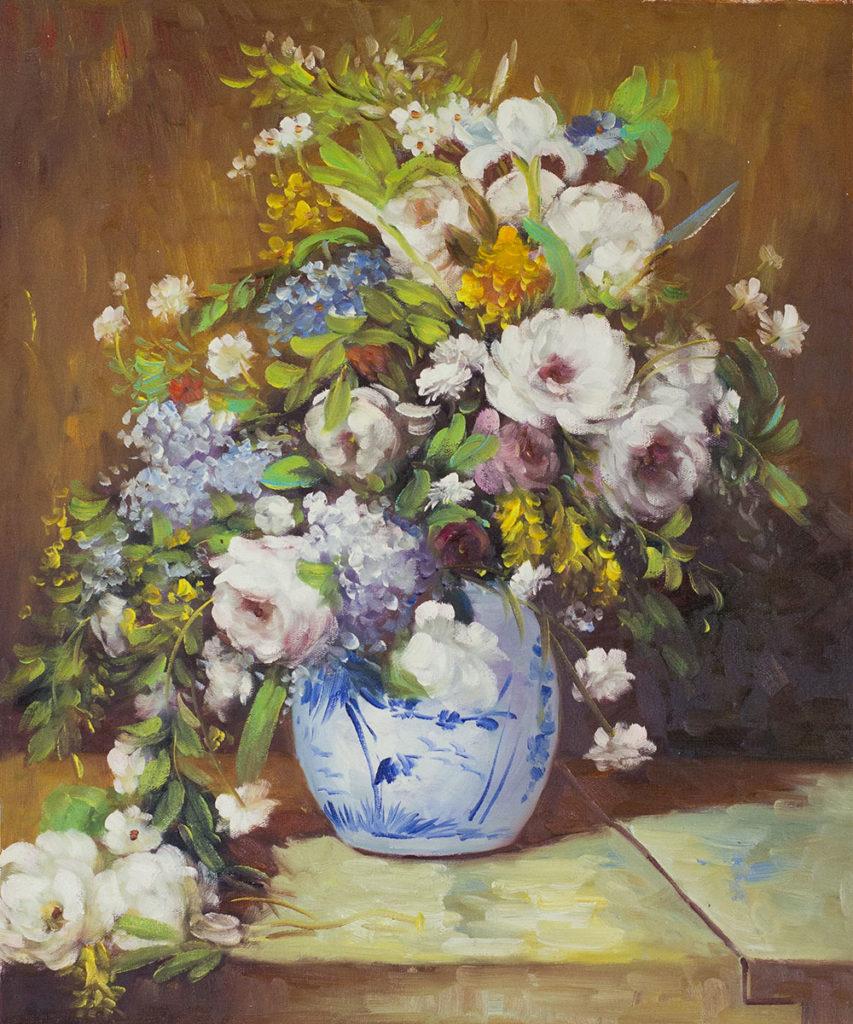 Pierre-Auguste Renoir, the highly skilled art genius, loves to capture memorable moments and events that he comes across. On this exceptional piece from the extraordinary artist titled Grande Vase Di Fiori, Renoir uses his impressionist techniques to create an unparalleled painting at his time. The vase and flower look so alive and touchable, yet perfectly still and spellbinding. The light flooding in from the left accentuates the softness of the petals and unleashes the beauty of the entire piece even more. The image perfectly detailed in this hand painting gives viewers a sense of peace and pride in being one's unique self.
#5 Claude Monet – Pathway in Monet's Garden at Giverny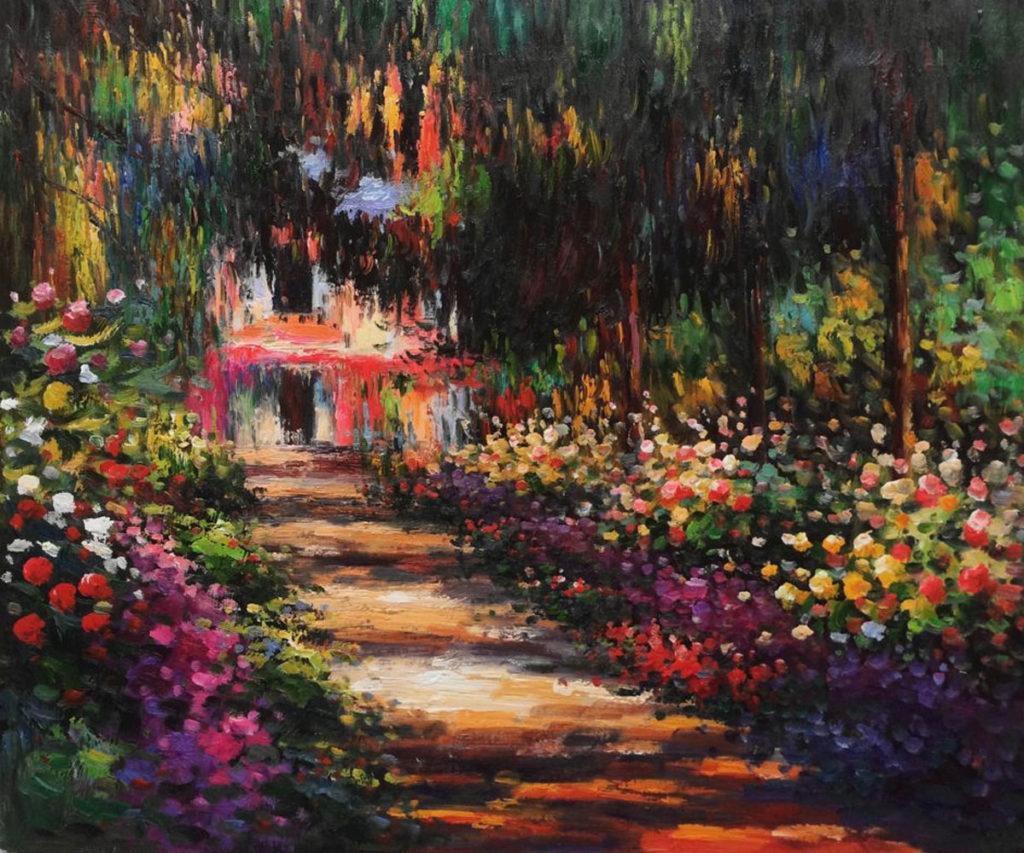 Claude Monet is another exceptional impressionist of his time who took years to perfect his artistic skills. He was also a longtime friend of Renoir. In this strikingly appealing oil painting titled Pathway in Monet's Garden at Giverny, he showcases his terrific ability to match extensive and vibrant color palette to replicate the feel of nature and actual flowers in his garden. Everything about this painting reminds beholders of the real beauty in diversity and peace that we can get from nature.
#6 Vincent Van Gogh – Starry Night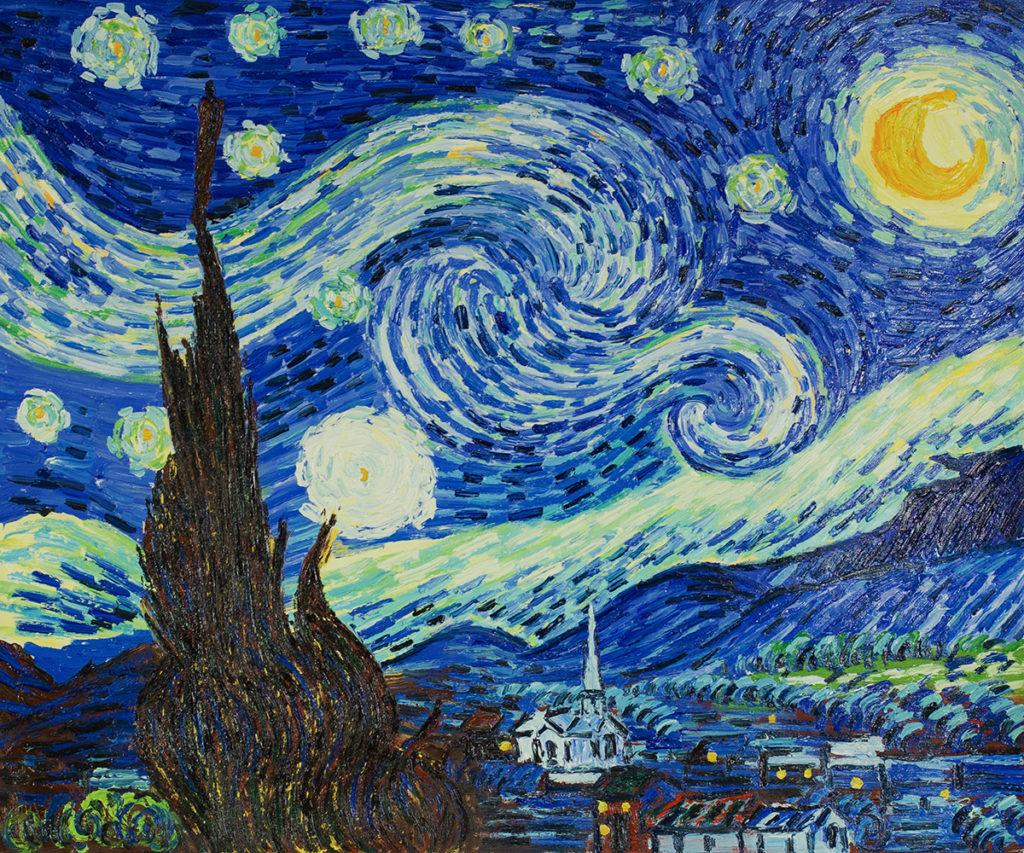 Here is a famous painting from Vincent Van Gogh, the master of post-impressionism and self-expression through artwork. The Starry Night was one of this artist's most celebrated piece of his time in 1889. Although this isn't the original masterpiece, this is a hand painted oil reproduction copy which matches the first detail for detail and color for color. It is hard to say the difference. The painting reveals the spellbinding dance between the moon, cloud, and stars, their effect, serenity, as well as our insignificance before the heavenly bodies.
#7 Claude Monet – Water Lilies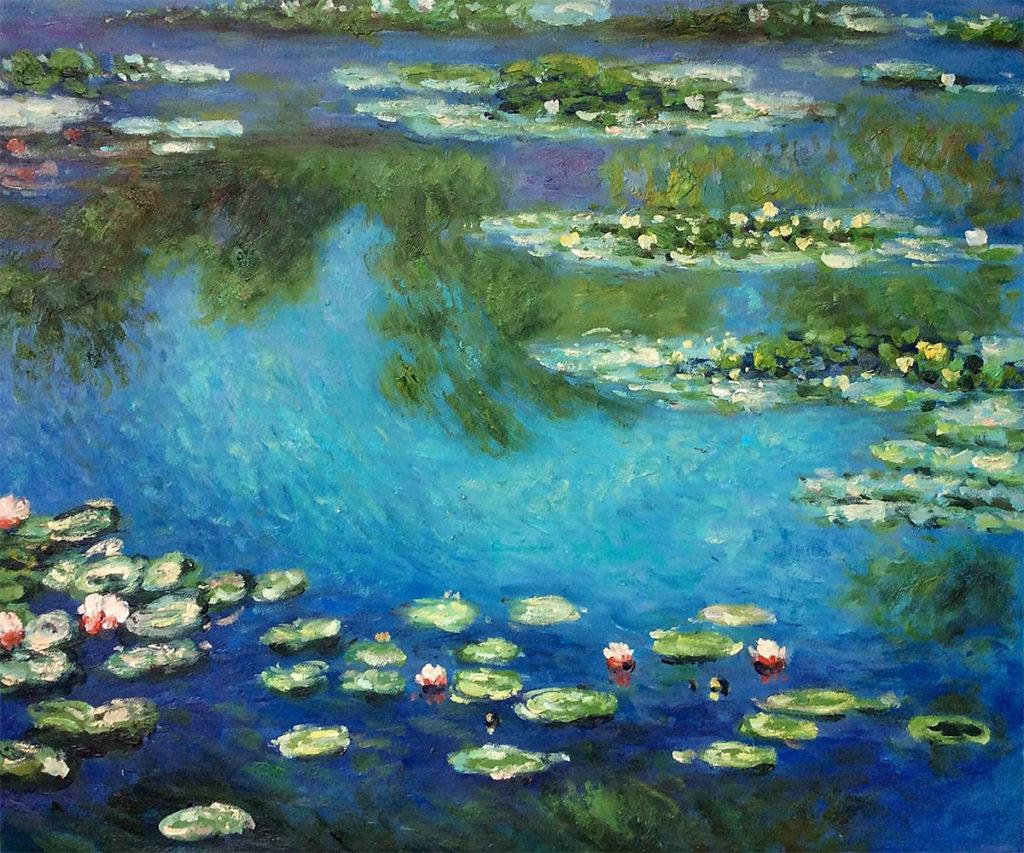 Water Lilies is another painting from the gifted impressionist, Claude Monet in 1914. Unlike other ponds art piece of his, this one depicts a pond with lovely lilies floating on a bright shade of blue water. The perfect strokes and color combo used on this painting reminds viewers of a typical pond with lilies. The hand panted Water Lilies is tranquil and attractive to the eyes and stirs fondness in the hearts of its beholders.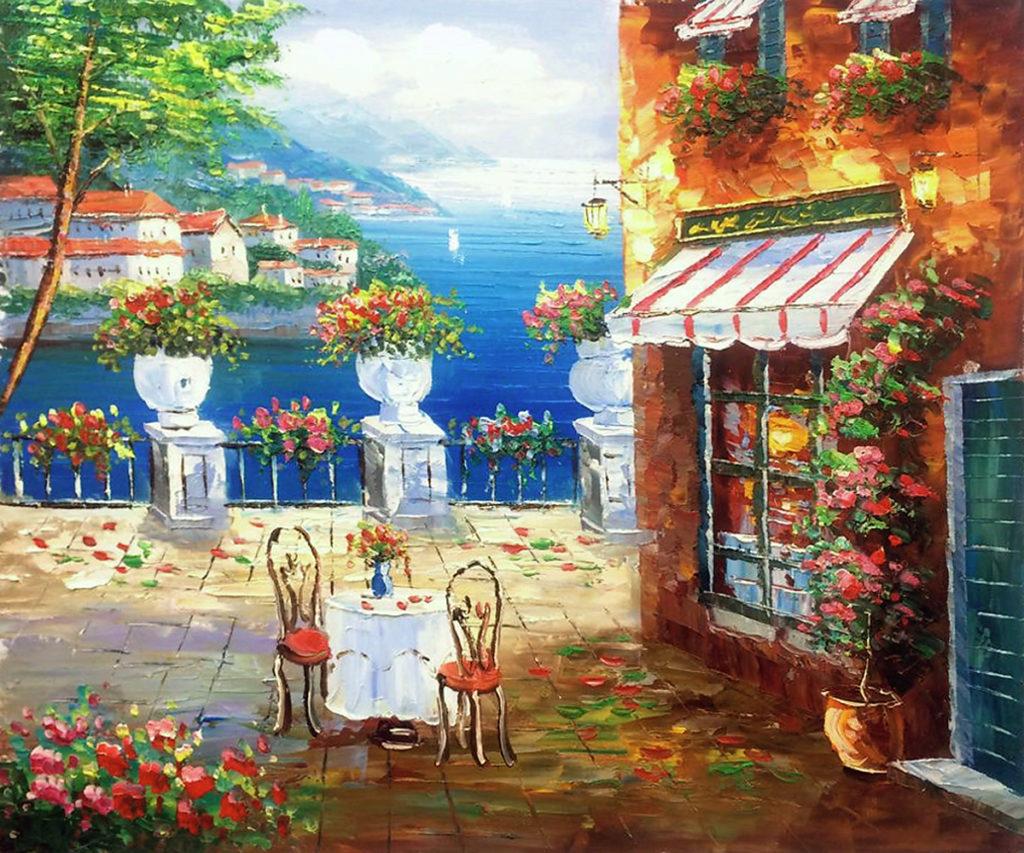 This simple, stunning, and romantic scene is an oil painting from an unknown artist who obviously made a trip to Italy to behold the enchanting atmosphere and captivating yet simplistic landscapes and building. The oil painting has the distinct attributes of impressionism and conveys the natural feelings one will get within the city. The café Italy depicts a refined, floral decorated restaurant sitting next to the appealing Mediterranean Sea. The sloping mountain, the bright cloud, trees, flowers, and spray of humble homes, give viewers a lot to behold in a moment and spills into hearts the feeling of excitement, happiness, and love.
#9 Edward Hopper – Nighthawks, 1942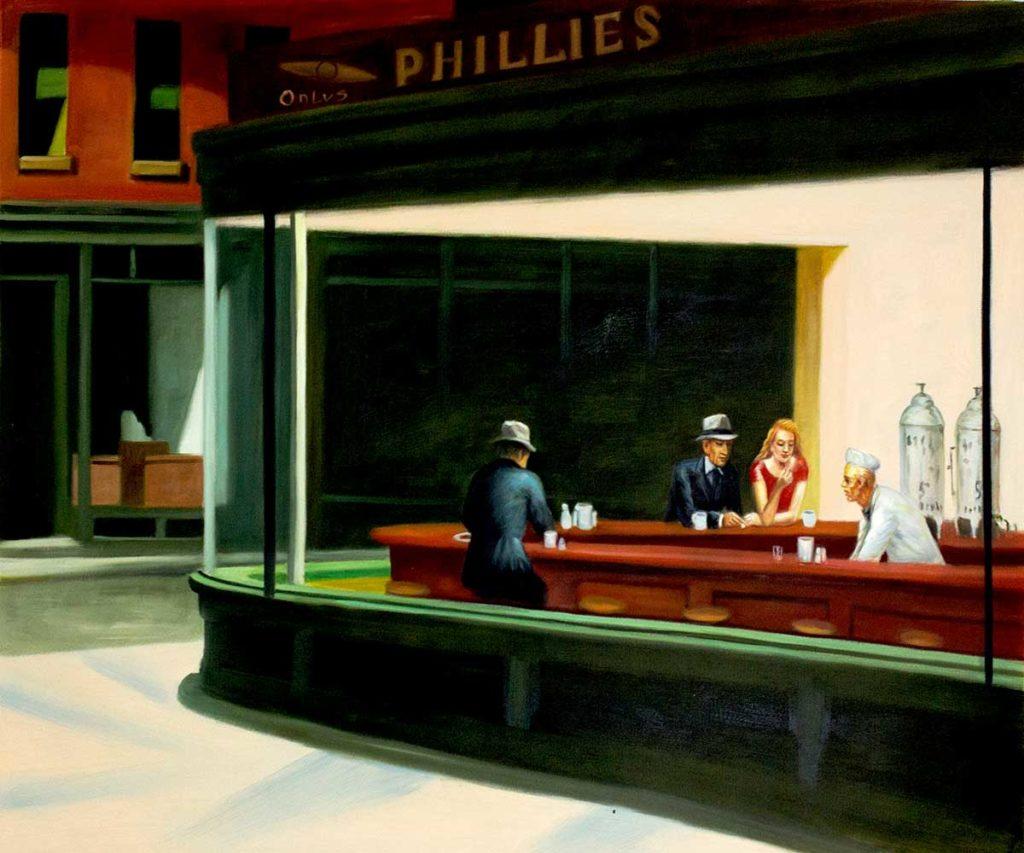 Nighthawks, 1942 is a painting from Edward Hopper that causes viewers and art lovers alike to stop for a while and examine the scene. So simple, yet so profound, the artwork was an inspiration brought to life for Edward in the Greenwich Avenue. The oil painting reveals a bar with great lighting and welcoming feel, yet the street is empty, and there are no entrance doors, no communication or merriment. It is eerie, sad, and at the same time inviting. This detailed and stunning combo of appeal and solitude brings to the realization of beholders that even in places of pleasure, awe, and so many possibilities, there could be sadness, seclusion, invisible battles, and no escape from nightmares.
#10 Wassily Kandinsky – Composition VII, 1913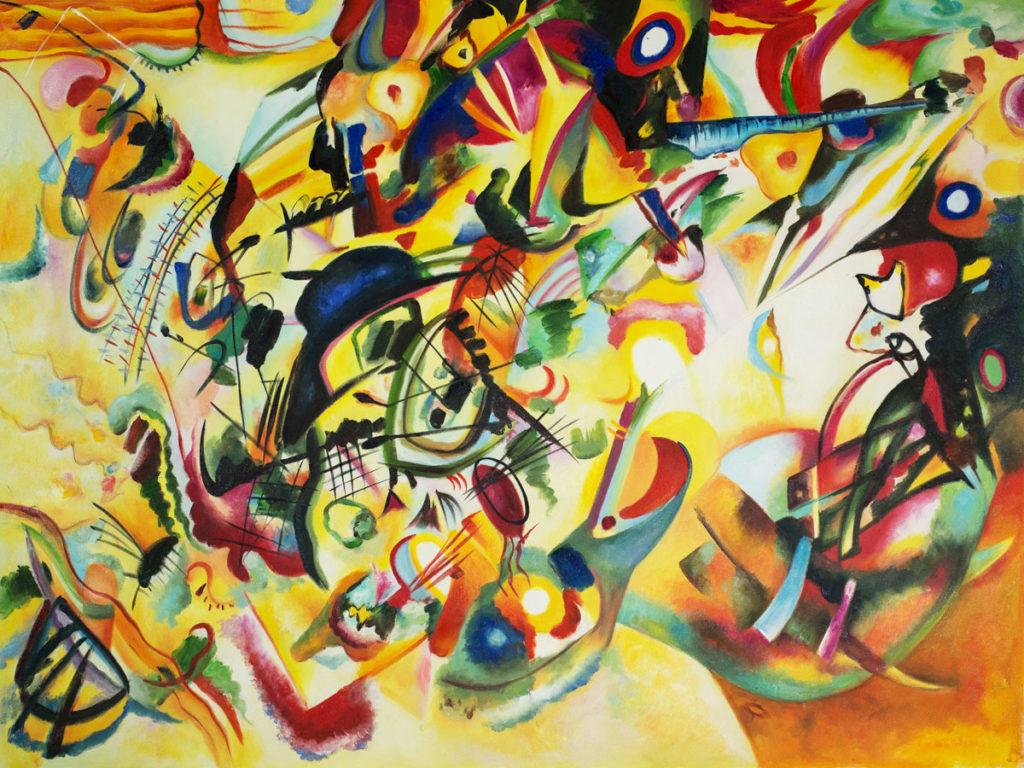 Wassily Kandinsky is a genius artist and the founder of the part of art titled "abstract expressionism." In the art world, the painter is famous as an artist who loved to combine fauvism and impressionism while furthering his course in creating abstract paintings that go beyond the physical barriers into the spiritual to invoke emotions and visuals in the mind of viewers in the same manner music tends to do. In this his masterpiece titled Composition VII, the artist showcases these skills. The hand painting strikes beholders as a noisy composition, yet alluring and intriguing. A perfect symbolism of the beauty in chaos.
overstockArt.com is a leading online gallery and distributor of art painting of all sorts. We take pride as the first company to create and offer matched, handmade, reproduced copies of great arts from exceptional artists of the likes of Monet, Hopper, and Van Gogh. Our goal is to provide our customers what they want: a stunning and warm painting to beautify their homes and walls on a platter of exceptional service.