Van Gogh and Monet – The Perfect Interpretation for Earth Day
From that first Earth Day of 20 million people on April 22, 1970, a multitude of acts, agencies and events grew.  Besides the of the EPA, the Clean Water Act, Clean Air Act, and the Endangered Species act,  several other laws and organizations were enacted and formed. The Earth Day Network is one of those.  Working with over 22,000 partners in 192 countries, the EDN's mission is an enormous one: to broaden, diversify and mobilize the environmental movement.  From a not-so-humble beginning of 20 million participants 42 years ago, more than 1 billion people now participate in Earth Day activities and events each year, making it the largest civic observance in the world!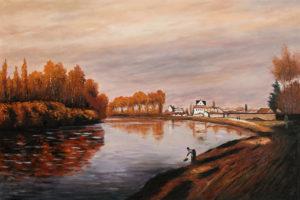 From bringing awareness of climate change to promoting clean energy, the Earth Day Network's broad brand of eco-activism is unparalleled.  Today, the core programs of EDN are:
Greening Schools and Promoting Environmental Education In partnership with the U.S. Green Building Council and The Clinton Foundation., EDN's Green Schools Campaign's goal is to green America's K-12 schools within one generation.
Accelerating the Global Green Economy EDN creates dialogue with civic, corporate and world leaders about transitioning from a fossil fuel-based economy to one based on renewable energy, efficiency and sustainability.
A Billion Acts of Green ® The world's largest environmental service campaign inspires both simple , individual acts and larger organizational initiatives that reduce carbon footprint and support sustainability.
In art, Landscapes and Seascapes reflect environmental consciousness. The great masters such as Claude Monet and Vincent van Gogh (who was purported to be a vegetarian), observed the natural world around them and translated that beauty onto canvas.
In the case of Monet, the father of Impressionism, colors and contrast are classic hallmarks. He painted his world: Gardens at Giverny, Water Lilies, and other environmental subjects. Bursting with life, the paintings bring Monet's outdoors inside. The perfume of flowers, the crisp salt sting of the sea, and the earthy aroma seem to emanate from the canvas, drawing the viewer in. Monet's appreciation of the Earth is felt – and seen – with every brushstroke.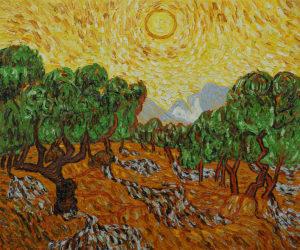 Post-impressionist van Gogh translated the beauty around him through a slightly different filter of mental distress. From his works of earthy browns and olive greens, such as Olive Tree to some of his most famous works of color such as Sunflowers, van Gogh's connection to the Earth range from dark shadows to brilliant reflections.
The love and appreciation of Earth is exemplified by these two great masters – a perfect interpretation for Earth Day.