Alexey Rubanov Named ArtistBe.com's August Artist of the Month
Alexey Rubanov is a Ukrainian artist whose work has been exhibited internationally. Hailing originally from Zaporozhye, he's lived in the town of Kremenchug for the past 15 years. Born in the early 70's, Rubanov recalls being an artist for as long as he can remember. Finding the musicality in painting, the painter sees sound as color in his works.
The contemporary collection of works that Rubanov creates is unique to the artist,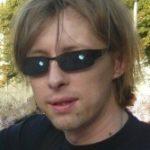 coming together in his own school of painting. Covering his canvases with oil and acrylics, he explores and experiments with his own artistic voice and the use of color.
Even though Rubanov has always seen himself as an artist, he honed his skills while earning a master's degree from the Kharkov State Artistic School and Poltava National University. His first exhibits were in the artist's native country of the Ukraine. His works have been shown around the world, including St. Petersburg and Kiev. His artwork was most recently shown at the 6th Beijing International Art Biennale in 2015. Rubanov is also part of the National Artists of Ukraine and Art for Peace.
Along with exhibiting extensively both in the Ukraine and internationally, the artist won first prize in the All-Ukrainian Triennial Abstract Art Act of 2013.
Rubanov's striking use of color and bold patterned designs are showcased in expressionist oils. With subjects that range from landscapes to famous figures, the artist's paintings seem to pop off the canvas with vibrant hues. Framing notable faces such as Elvis, Bob Marley and Jimmi Hendrix, Rubanov brings music to the art world with his own uniquely modern style. Instead of creating realistic, photo-like pictures, Rubanov uses a palette of colors and an angular, geometric flare to set his musical work apart from the more traditional portrait. For example, "Bob" (a portrait of the famous Bob Marley) features warm golds, reds and oranges along with blue and purple rectangles. The shapes meld together, making up the musician's famously recognizable face.
We are excited to have Alexey Rubanov and his musical blend of expressionism and impressionism as part of ArtistBe.com. To see his portrait of musical masters along with his landscapes and other works, visit Alexey Rubanov's gallery collection on ArtistBe.com.