Anthony Dunphy Named ArtistBe.com May's Artist of the Month
A native of Newfoundland, Anthony Dunphy has a Bachelor of Arts and Bachelor of Education from Memorial University in Canada. Dunphy was born in Carbonear, grew up in the capital city of St. John's and resides in Japan. Making the city of Numazu home, Dunphy now lives in Shizuoka prefecture at the base of Mount Fuji.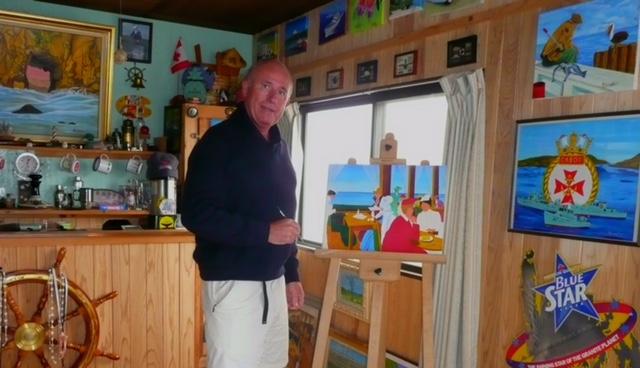 Inspired by his father to become an artist, Dunphy has been working as a professional painter since 2006. Along with his father (who carved in soapstone, sketched, drew and used mixed media — but never showed his art publicly), Dunphy also gained inspiration from the nostalgic Norman Rockwell covers of the Saturday Evening Post.
Dunphy primarily paints in professional grade acrylics. This provides him with the perfect vehicle to create his vividly-hued works. He also occasionally uses graphite to create drawings. His art was first shown in the Grand Hall at Grand Central Station in New York City. Following this, Dunphy was featured in exhibitions at Toyota Motors Corporation as well as at local Japanese events.
The artist captures seemingly everyday moments in light-drenched hues, bringing the images off of the canvas with pops of bold colors. His "Telling Sea Stories" depicts a seashore scene, showing a group of seamen relaxing and reminiscing over their own tales. Dunphy also displays his mastery of motion and color through "Dancing in Red." The rich reds and warm oranges highlight his work, featuring a Flamenico dancer and guitarist.
Living in Japan, Dunphy looks forward to the advantages that exhibiting in an online marketplace offers when it comes to reaching a world-wide audience. This allows him to find viewers from across the globe and make prints available for the everyday art collector – regardless of their budget.
With an artist vision to continually improve and learn new techniques, Dunphy notes, "Art is a fantastic journey and gives me joy daily."
We are excited to have Anthony Dunphy, and his realist-impressionist mix, as part of ArtistBe.com. To see his explosive use of color and picturesque paintings, check out his collection on the ArtistBe.com gallery.