Let It Snow: Four Amazing Winter Landscapes From Masters To Modern Artists
Some of us prefer to be outside building snowmen and others would prefer to sit by the fire with a cup of hot cocoa and look at a winter scene painting instead. No matter which camp you are in, this post will expose you to fantastic snow scenes without the chill.
Selected from the works of old masters and the modern artists of Artist Become collection, here are four amazing winter landscapes to bask on during these cold winter days.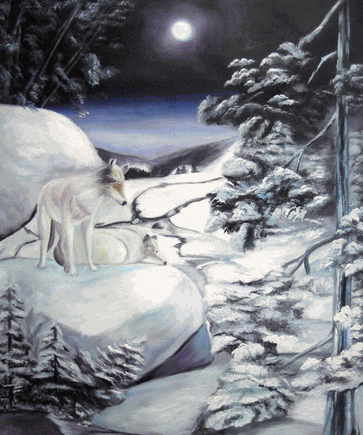 The painting features two wolves (mates) in a winter landscape. The male wolf is at watch while the female rests by the frozen stream. The full moon glows in its height in the night sky. Evergreen trees are blanketed with snow.
Peggy Miller is a self taught artist working many different artistic jobs in her sixty years of life, graphic design, costume design, etc. However, painting she will tell you is Miller's passion. Trying to capture a soft, beautiful, serene feeling in each image loving nature and believing in the conservation and preservation of the world around her. (ArtistBe.com)
2.  Street in the Snow, Louveciennes by Camille Pissarro (oil, 24″x 36″, horizontal)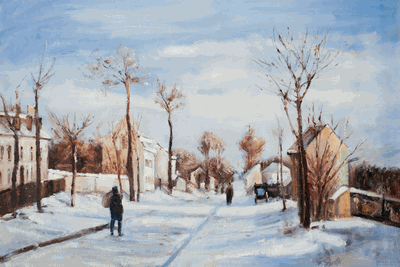 In this painting, we see the view of a lone street buried in the snow. This does not stop individuals from going about their business. One man even has a large bag he is hauling in the snow-laden street. Pissarro's treatment of the snow makes us feel as if we could kick up the snow with our boots were we there making our way to the village bakery.
Jacob-Abraham-Camille Pissarro (1830-1903) was a French Impressionist painter who's focus on landscapes, as well as, rural and urban French life have always been a favorite of the viewing audience. His later work displays an empathy for peasants and laborers sometimes revealing his radical political leanings. (Impressionist Master, OverstockArt.com)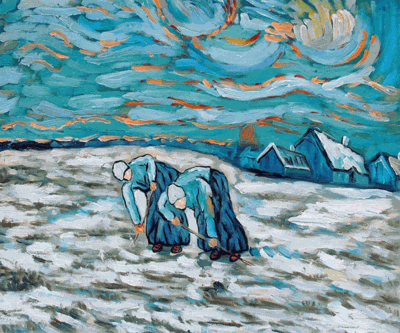 Rendered in 1890, this is one of Van Gogh's most famous paintings. Van Gogh's heavy brushstrokes and cool palette give a strong representation to how harsh winter can be. The two peasant women are vigilant and dig in the snow for sustenance.
Vincent Van Gogh's restless spirit and depressive mental state fired his artistic work with great joy and, sadly, equally great despair. He produced many paintings that were heavily biographical. (Post-Impressionist Master, OverstockArt.com)
4. Snow in Houroy 67 by Pol Ledent (oil, 20″ x 24″, various sizes available, vertical)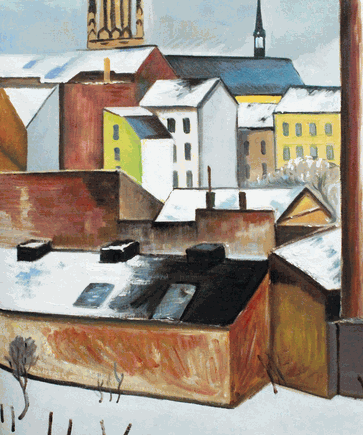 This landscape shows the falling snow covering the small town of Houroy and its vegetation. You can almost envision yourself taking a sleigh ride down the hill into town.
Pol Ledent was born in 1952 in Belgium. He came to painting in 1989. He started with watercolor but felt rapidly that oil painting would match his way of being. He is a self-taught painter. (AritstBe.com)
Whether you prefer to play in the snow or stand by with your cup of cocoa by the fire, winter is certainly a beautiful season to behold, especially in art.