Frida Kahlo Art Journal Details Insights Into Artist
Frida Kahlo art journals reveal handwritten entries, letters, and colored-ink entries also full of doodles, sketches, and paintings. Over her lifetime, the artist contributed over 200 paintings to Surrealism, self-portraits, portraits of family and friends, and still, life works primarily. Kahlo proved to be very resilient as a person; though suffering from polio at age six and other accidents and illnesses, as a child, she participated in sports and loved to ride her bicycle. Of her siblings, she was her father's favorite, considered the most like himself. Her father taught her how to retouch and color prints and a family friend gave her drawing lessons. She described herself as a child that "went about the world in colors." This resiliency is a part of her legacy as a person and artist.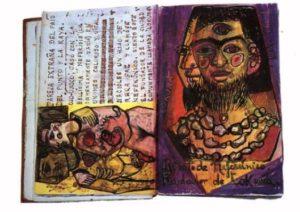 The art journal she kept during the last decade of her life which was "… preoccupied with death, in declining health, isolation and repeated surgery from the bus accident that severely damaged her spine, pelvis, right leg, and right foot at age 18," according to Publisher's Weekly. Kahlo spent three months recovering in a full-body cast. as she suffered a broken spinal column, broken collar bone, broken ribs, a broken pelvis, and additional traumatic injuries. Throughout her life, she experienced health difficulties associated with the bus collision of her past. Kahlo noted feeling isolated and attributed this to the abundance of self-portraits she rendered, "I paint myself because I am so often alone and because I am the subject I know best."
The artist was admired by artists such as Marcel Duchamp, Wassily Kadinsky, and Pablo Picasso (who gifted Kahlo with earrings shaped like hands which she wore in a self-portrait). She had a long and trying marriage with Diego Rivera, though they stayed connected after their divorce as they carried love within their hearts for one another. The artist's life may have been physically challenging, but Kahlo was passionate about living life to the fullest.
The Diary of Frida Kahlo: An Intimate Self-Portrait by Carlos Fuentes discusses her last art journal, featuring seventy watercolor images rendered by the artist. It is Frida Kahlo in her own words and artwork, though Fuentes does narrate the entries with his own interpretations. Frida Kahlo's paintings are quite a treasure but are made even more so by this personal and incredible account of her life by her perspective.