Gerald Shepherd Named Artist Become's October Artist of the Month
Artist Become's October Artist of the Month is the established English artist Gerald Shepherd. The Andover-based artist began pursuing his art career in the '70s and has had his work exhibited in many galleries since that time.
Shepherd has explored system-based pictorial art forms since the start of his career. His highly individual works combine evolving image sequences borrowed from mathematics, the sciences, music, and literature. "My earlier work was very schematic using structures and techniques borrowed from mathematics and the sciences," explained Shepherd.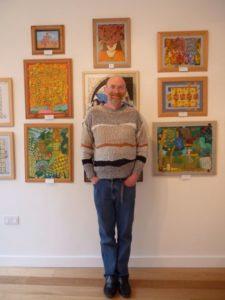 "Much of this work was pioneering and I was one of the first artists in the United Kingdom to explore the science-art overlap," he continued. "This work subsequently expanded into a great variety of innovative styles."
In the mid-'70s Shepherd coined the term "Ionist Art" to explain the work, he was doing at the time.‭ ‬In 1987, he formed the Ionist Art Group to bring together artists and scientists in England to exchange ideas and collaborate on joint projects. The group is still together and Shepherd occasionally organizes group exhibitions and art events to raise funds for animal welfare and wildlife conservation.
Since the beginning of the current decade, Shepherd has been primarily interested in applying these principles to other painting genres. He is attempting to invent a new landscape and portrait tradition using symbols and diagrams instead of a more direct presentation of the scene he observes. He explains. "Using this technique I hope to provide a more holistic portrayal of the subject."
Shepherd exhibits nearly 20 works of art in his personal gallery on Artist Become. Shepherd described a few of the works of art featured in his gallery and discussed the inspiration behind them:
Sidbury Hill Viewed From the Safety of a Dream – I started creating what I call Wessex Visions in 1999. These paintings illustrate the landscape where I grew up (steeped in history and mystery) but attempt to include the human story and natural processes behind the scene, and often my emotional responses to them, using symbols, shapes, and diagrams. This is a small picture but it still contains all the elements of my larger works. Sidbury Hill is a hill fort from Iron Age overlooking the military cemetery at Tidworth in Wiltshire. It has been inspirational to me since I was a very young boy.
Where Fred the Ghost Became Fred the Artist – This is a condensed representation of my childhood village and Fred was an imaginary "friend" who I later associated with the weirder creative aspects of my personality (he was actually a ghost who lived under the bed – a dark and foreboding place for a very young child). He eventually became an alter ego called Manfred Wing who now has an artistic career of his own. My autobiographical paintings are obviously very personal but I also try to evoke the spiritual and fundamental presence behind a place.
Girl on the Edge – At about the same time that I started my Wessex Visions landscapes in 1999, I embarked on a very long series of portraits that explore various ways of presenting the character of a person (real or imagined) using shapes, symbols, colors, etc. I sometimes, as in this work, encapsulate the symbols within the main structure (person) and sometimes they emanate from it in streams of images. I still have hundreds of ideas in my head so work will go on for some time yet.
Shepherd has had a large number of exhibitions of his work since 1986. He was represented for many years by the Hearn and Scott Gallery in Andover and the Bronze Gallery at Hartley Wintney. He also exhibited regularly at the Loggia Gallery in London. Shepherd organizes exhibitions annually at the Paul McPherson Gallery in Greenwich and his next show is slated for September 2013.
Today, Shepherd's work can best be seen on his website and on Artist Become. "I feel the biggest advantage of displaying my work online is the size of the audience: both in terms of other artists and art lovers/collectors," Shepherd said. "There are many advantages of being an artist member at Artist Become. I appreciate the work being reviewed and the way it is presented – it shows my work very well."
Shepherd is one of more than 500 international artists featured on Artist Become platform.