Artist Ingrid Dohm Named ArtistBe.com's August Artist of the Month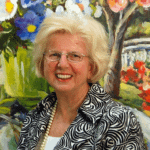 Ingrid Neuhofer Dohm is an Austrian visual artist based in Illinois that has been delighting the public for over thirty years with her lively acrylic, watercolor, and oil paintings. Ever since a child, she has always been fascinated by any instrument that could transport thoughts into shape – being crayons, pens, or pencils  – and all the processes that would transform lines into images. This multi-award-winning artist is well known for her signature floral still lifes along with beautiful landscapes, cityscapes, and portraits.
Being born in the small town of Stadl-Paura, she grew up surrounded by forests, glens, and mountain lakes, being inspired by Nature. During the long summer days, she would venture into the discovery of different kinds of flowers with her siblings. She would climb up the side of the mountains seeking the greatest prize of all, the splendorous Edelweiss that would be outcropping the rocks. In the winter, Schneeroses would delight her imagination, popping out their vibrant colors through immaculate mantles of snow. Today, this sensitivity to the true perfection of nature results in a consistent beauty in all her work, expressed elegantly through vibrant use of color and a controlled technique.
Discovering such a talent, however, did not happen soon. Despite being passionate about creativity and visual beauty she didn't experience the bliss of her own talent until she was an adult. In fact, it only happened after moving to the US and being married, due to an occasional remark made by her husband. Until then, Ingrid never realized how her passion for art and her natural ability to draw and paint could relate. In a humble attempt, Ingrid stepped out her own shyness to get a starter art kit, and it didn't take any longer to go from that simple step into an artistic rampage.
A Studio Arts Major in Rockford College, Illinois shaped the raw talent into an Impressionist and representational style, sublimating the play of light and movement in open compositions. Ingrid Dohm has been recognized with awards for fourteen years, not only for her paintings but also for her contribution to the art world. By making her work a pledge for noble causes and by helping others to perfect their talents through classes and workshops, Ingrid is an example of Art as a way of life and service to the community. In August 2014 Ingrid was also nominated Artist Be talent of the month, a social platform that showcases and connects thousands of artists with art lovers from all over the world.
Ingrid works in close relation with the Rockford Area Arts Council and the Rockford Art Museum; and her paintings can be appreciated 'life' at Rockford, Freeport, and Monroe Art Museums. If any of these museums is a little out of your way, you can take a look at her ArtistBe.com Gallery and be delighted with a collection of 45 canvas works of art.