James Barry: Irish Romance on Canvas
James Barry was an Irish painter during the 18th century who is well-known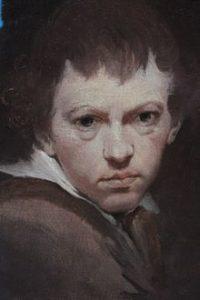 for being one of the first Romantic era painters in Britain. He is famous for his six-part series, The Progress of Human Culture, and for his belligerent personality. He never attended any formal art school. He was determined to create art according to his own style and refused to adhere to any anyone else's standards. His talent eventually led him to become one of the most highly acclaimed Irish artists, with influence over other painters such as William Blake.
Born in Cork, Ireland, young Barry learned drawing and sketching from a local artist, but proved to be a quick study who soon moved on to painting. Even at a young age his talent was greatly admired and his work was exhibited in London by the time he was in his early twenties. Thanks to a generous patron, Edward Burke, Barry traveled abroad, studying the great masters such as Michelangelo, Da Vinci, and Raphael. This drastically influenced a great deal of his work after his return. Later, he became a member of the Royal Academy of Art and a teacher of painting.
His pieces are known for their grand style imagery or highly idealized aesthetic (addition as grand style is not a common place art term for most folks), and often depict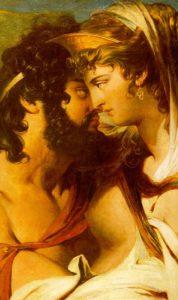 famous icons from myth or history. His work was viewed as one of the best examples of Neoclassical art in Ireland at the time. He was able to exhibit his art in the Tate Museum during his lifetime, considered an honor. Aside from the allegorical and historical figures capture in The Progress of Humans, some of his other works included Venus, Jupiter and Juno, King Lear, as well as numerous self-portraits.
To help celebrate St. Patty's day, bring a little bit of romantic art similar to James Barry into your own home. Browse through our Romanticism art gallery and find the perfect piece to put you in the Irish mood.