Edward Potthast Brings Summer to your Walls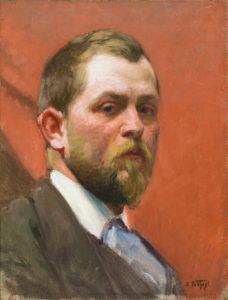 Edward Henry Potthast was born in Cincinnati to a family of artisans, just before the Summer of 1857. Being one of the greatest American painters, he is an example of an artist who overcame the dark and dense palettes and reconnected with his natural sun-season influence, to meet a long-lasting success – from the 19th century until today.
His talent started to show by the age of 12 whilst attending the New McMicken School of Design and by the age of 16, he had his first apprenticeship in a lithographic firm. However, his artistic journey starts in 1879, when the portrait and figure painter Thomas Satterwhite Noble takes him under his wing, eventually leading him to his first trip to Europe in 1881 where he studied with Polydore Beaufaux and Charles Verlat. Encouraged by his stay in Antwerp, the young Edward Henry enrolled in the Royal Academy of Fine Arts in Munich and afterward, he attended for one and a half months to the Académie Julian in Paris.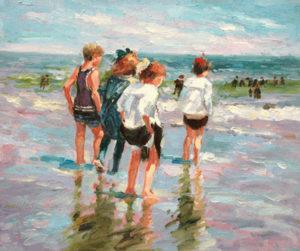 After this first European venture, he returned home for a year where he worked as a lithographer – the craft that sustained him until the age of 39 – and resumed his studies with Noble. By this time, Potthast's work was dense and composed by solid unbroken strokes, still influenced by the Dutch Painting style acquired in Munich; along with the tendencies he got from his first tutor who mainly applied dark tones in his works.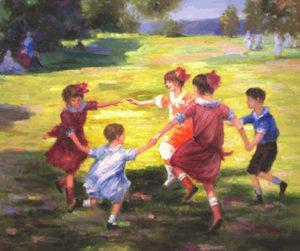 His liberation happens when he returns to Paris at the end of 1886, where he met new teachers such as Fernand Cormon, Jules-Joseph Lefebvre, and new life-changing inspirations: Robert Vonnoh and Roderic O'Conor. These two landscape painters, whose scumbled works were embedded with cool tones, expanded dramatically his take on color and technique. He then found his own tone, balancing the subdued colors and strong contrasts he retained from his first masters with the newfound Impressionist palette. This creative transformation finally elevated his works to the Paris Salon in 1889 and later, in 1894, to the Cincinnati Art Museum where Potthast was the only American artist included.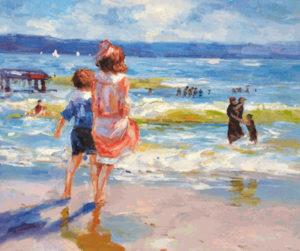 This artistic highlight maintained him in his hometown for a year, where he enjoyed modest success until he decided to set up a painting studio in New York. In 1895 he started to work as a magazine illustrator for publications as Century, Harper's, and Scribner's, and in the following years, his watercolors and oil paintings started to be exhibited at the Art Institute of Chicago, the Salmagundi Club, and at the National Academy of Design. His unwavering dedication to work, his will to constantly learn and practice translated into numerous art prizes, including the Thomas B. Clarke award for best figure painting in 1899.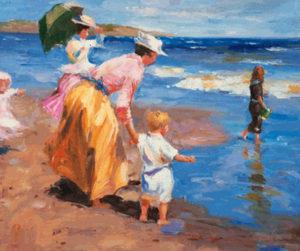 Despite his popularity and success during his lifetime, Edward Potthast always remained single and a very private person. Art was his only love, celebrated happily ever after with leisurely trips to the seaside, capturing moments of pleasure and peace of everything around him, until the day he died in March 1927.
To celebrate this artist and the soon arrival of Summer, overstockArt.com has introduced a new collection of Edward Henry Potthast art, whose happy depictions cherish the best moments that life has to offer. To see the works available visit his gallery and choose the one that brings the most sunshine and joy into your home.